The

Xbox

One

X, i

n short
The Xbox One X is a great gaming machine, but you should only buy one if it meets your needs. If you're looking for 4K resolution, the ability to watch 4K Blu-ray movies, play enhanced OG Xbox and Xbox 360 titles, play Xbox exclusives, and hundreds of other great games, the Xbox One X is worth it. It's reliable, fast, and affordable (second-hand prices range from 100 to 150 bucks). However, if you're only willing to buy a new console, I'd recommend buying the Xbox Series X instead of the One X, as the few remaining One Xs on the market are usually overpriced.
What's great about the Xbox One X
Quick and silent
The smooth design
Play games in 4K
Watch Ultra HD Blu-ray movies.
Enhances OG Xbox and Xbox 360 titles.
Access to the Xbox Game Pass
Cheap (secondhand)
What's not so great about the Xbox One X
Won't play the most recent games
Overpriced (if bought new)
With the 9th generation of consoles out (Xbox Series S, Xbox Series X, and PlayStation 5), is it still interesting to invest in an Xbox One X to benefit from the Xbox console ecosystem?
Answer in this subjective Xbox One X review.
Conditions of the review
I recently bought a second-hand Xbox One X that was initially manufactured and sold in 2017. The package included the console, original power cable, HDMI cables, and an official black controller in pristine condition for only 150€.
Note that the previous owner had told me that he had cleaned the console. In reality, he had only vacuumed the outside of the machine. It had never been opened before, and the warranty sticker was still intact. After playing for a couple of hours, I noticed that the console was a lot noisier than I thought it would be. Worse, the fan was pulsing. I proceeded to open the console and realized that the inside was filled with dust. I tore it down, cleaned it with an air duster, and renewed the thermal paste in the process. As a result, the console is now extremely silent.
The most elegant and powerful Xbox One
The first thing that came to mind when unboxing the One X was how good it looked!
The console has this elegant look, whatever the angle. It can be placed horizontally or vertically, using a vertical stand. I'm also very impressed with how compact the console is, especially when considering what's inside. Check out the Xbox One X specs below (compared with the other Xbox One and Series S|X models).
Xbox One (Vanilla)
The Original Xbox One, released in 2013
Processor: 8-core Jaguar CPU at 1.75GHz
GPU: 1.3 TeraFlop (853MHz)
RAM: 8 GB DDR3
Storage: (HDD) From 500 GB
Media Drive: Blu-ray optical drive
Max resolution (in-game): 1080p 60fps
Dimensions: 3.1in x 13.1in x 10.8in (79mm x 333mm x 274mm)
Weight: 7.7 lb (3.5 kg)
Xbox One S
Released in 2016
Processor: 8-core Jaguar CPU at 1.75GHz
GPU: 1.4 TF (914MHz)
RAM: 8 GB DDR3
Storage: (HDD) From 500 GB
Media Drive: Ultra HD Blu-ray optical drive
Max Resolution (in-game): 1080p 60fps
Dimensions: 2.5in x 11.6in x 9.0in (64mm x 295mm x 229mm)
Weight: 6.4 lb (2.9 kg)
🟩 Xbox One X
Released in 2017
Processor: 8-core Jaguar "Evolved" CPU at 2.3GHz
GPU: 6 TF (1.172Ghz)
RAM: 12 GB GDDR5
Storage: (HDD) 1 TB
Media Drive: Ultra HD Blu-ray optical drive
Max Resolution (in-game): 4K 60fps
Dimensions: 2.36in x 11.81in x 9.45in (60mm x 300mm x 240mm)
Weight: 8.4 lb (3.8 kg)
The Xbox One X sure is a powerful console. It is evidently not as powerful as the newer Xbox Series S and X models which support higher frame rates and offer unique features such as the Smart Delivery to eliminate load times (see specs below):
Xbox Series S
Released in 2020
Processor: 8-core AMD Ryzen Zen 2-architecture CPU at 3.6GHz (3.4GHz with SMT)
GPU: 4 TF (1.565GHz)
RAM: 10GB GDDR6
Storage: 512GB NVMe SSD PCIe 4.0
Media Drive: None
Max Resolution (in-game): 1440p 120fps
Dimensions: 10.8in x 5.9in x 2.5in (275mm x 151mm x 63.5mm)
Weight: 4.25 lb (1.81kg)
Xbox Series X
Released in 2020
Processor: 8-core AMD Ryzen Zen 2-architecture CPU at 3.8GHz (3.6GHz with SMT)
GPU: 12 TF (1.825GHz)
16GB GDDR6
Storage: 1TB NVMe SSD PCIe 4.0
Media Drive: Ultra HD Blu-ray optical drive
Max Resolution (in-game): 8K 120fps
Dimensions: 11.85in x 5.94in x 5.94in (301mm x 151mm x 151mm)
Weight: 9.8 lb (4.44kg)
If you are considering buying an Xbox One, forget about the Vanilla (or initial) models. They are obsolete and suffer the most when running demanding games like Red Dead Redemption 2. Note that if your budget is too thin for an X model and you have a 4K TV, the Xbox One S is an excellent option for you. It's silent, compact, reliable, and comes with a 4K Blu-ray player (to play movies, not games ⚠️).
The Xbox One X is a beast.
The Xbox One X will make any Xbox, Xbox 360, or Xbox One game look and feel better.
What makes it particularly interesting (and still very relevant even with the Series models out) is its ability to display a crisp native 4K resolution with High Dynamic Range (HDR support).
What's also impressive is how Microsoft succeeded in designing such a powerful yet compact device. The Xbox One X is about 40% smaller than the Vanilla model and barely bigger than the tiny Xbox One S.
However, the One X is surprisingly heavy. But then again, this shouldn't be a problem as most people don't move their consoles around often. Place it. Plug it. Play.
By the way, does the Xbox One X support Ray Tracing?
Assume that it doesn't. The One X could technically display Ray Tracing. However, RT is a technology that requires so much computing power that even the PS5 and Xbox Series struggle with it.
Does Xbox One X support 120 fps?
The short answer is no. While the Xbox One X can technically send a 120Hz image, no game runs at 120 FPS on the console. It's not so surprising as this is a feature unlocked by the new generation of consoles.
How much storage does the Xbox One X have?
1 TB (or 1000 GB). But it only offers about 780 GB of free space. The "missing" space is occupied by the OS and the various applications installed for the console to run properly.
The Xbox One X is silent
As mentioned above, the Xbox One X is remarkably silent. At least when running in a spaced-out and cool environment. I live in Finland and only tested the console during the winter. I'll update this review if I notice any change as it gets warmer.*
* Summer update: the console remains surprisingly silent at ≈ 28°C or 82°F.
The Xbox One X is fast
Another thing that struck me when using the One X is its speed. I had read a lot about how slow the Xbox One's interface was, but I find it is quite the opposite – I suspect that an update fixed it.
What's more, past the long(ish) boot, loading games or applications is faster than on any other Xbox One model (it varies from a game to another).
Here are a couple of examples: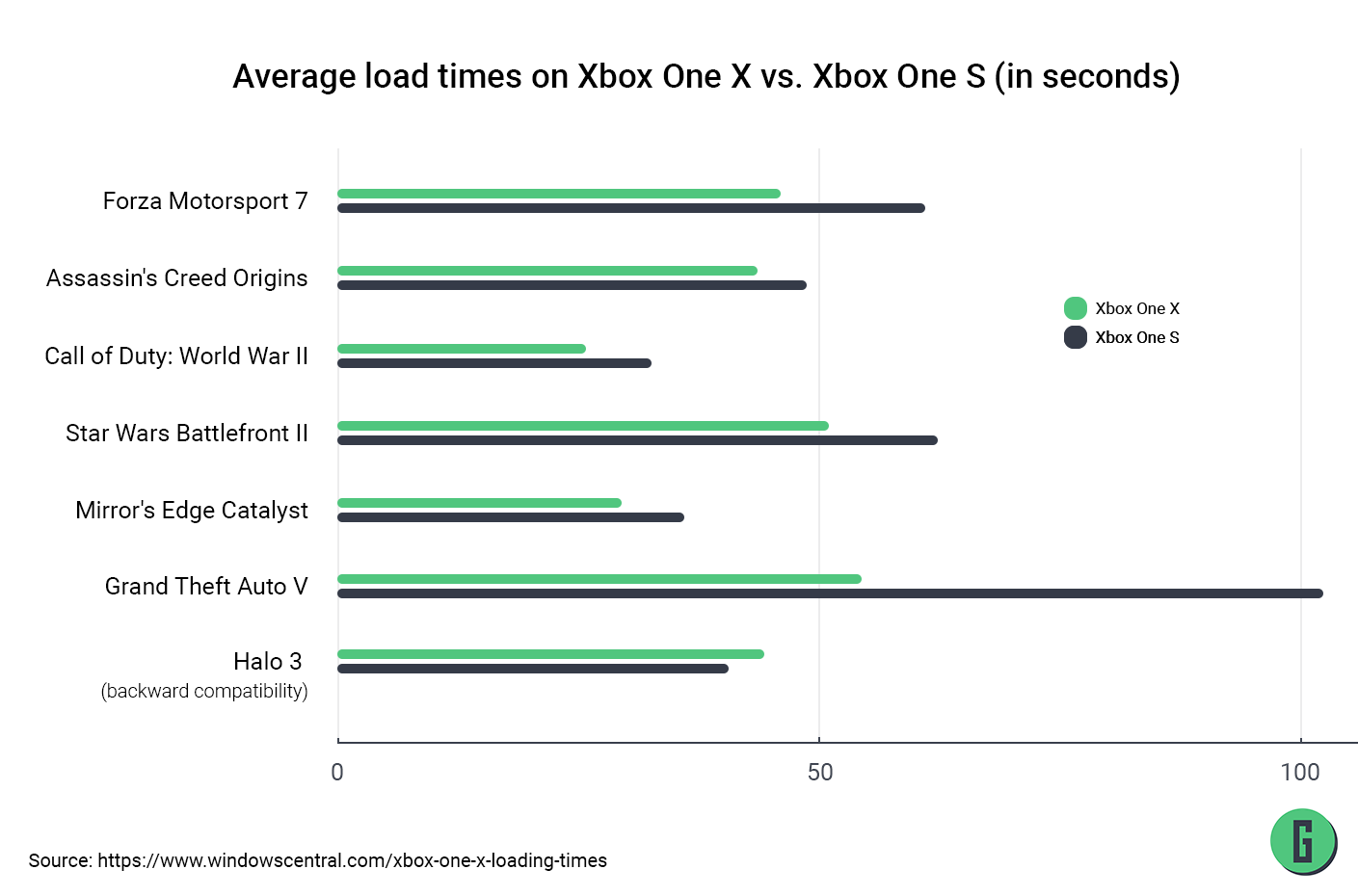 Interestingly enough, Halo 3 requires more time to load on the One X. This is most likely due to the enhanced features and automated higher resolution when playing on the Xbox One X.
When activating the Performance Mode in the power setting, the console will even take you exactly where you had stopped your previous session when turning it back on.
The Performance Mode allows you to put your console in rest mode (it doesn't fully stop). It drastically reduces the time needed to boot the console and lets you download updates and games when the console is off. The counterpart is that it consumes more electricity.

I find the Performance Mode useful for downloading heavy games and updates during the night. I turn it off otherwise as it doesn't affect the gaming experience in any other way — and I'm guessing the planet won't mind it either.
Personalize your Xbox home screen
Another thing I particularly appreciate about the Xbox One (that applies to all Xbox One and Xbox Series models) is how you can personalize the menus and Home screen.
On the one hand, you edit the accent color, change the background visual, apply a dark mode on the menus, etc. These are standard but appreciable features. But the functionality I like the most is the possibility to create groups on the home screen.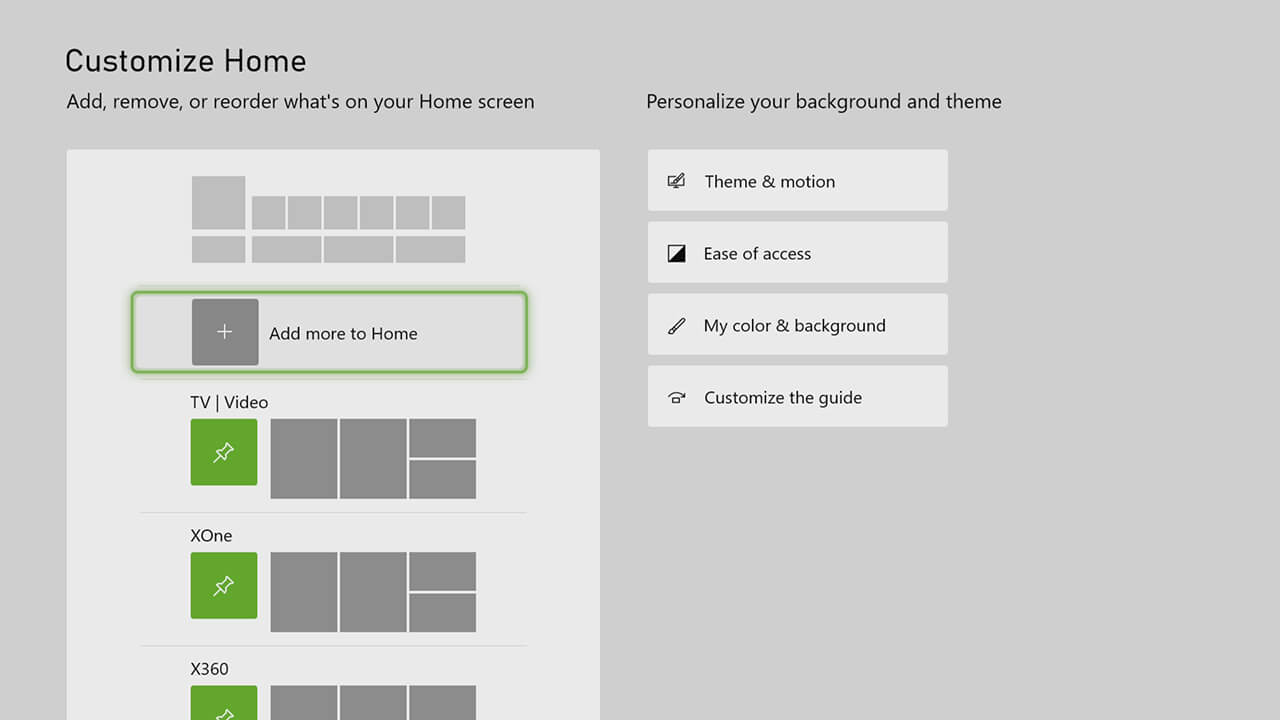 You can group games, apps, and content the way you want it and create personalized sliders. For instance, here's mine for the Xbox and Xbox 360 titles I have installed on the One X so far: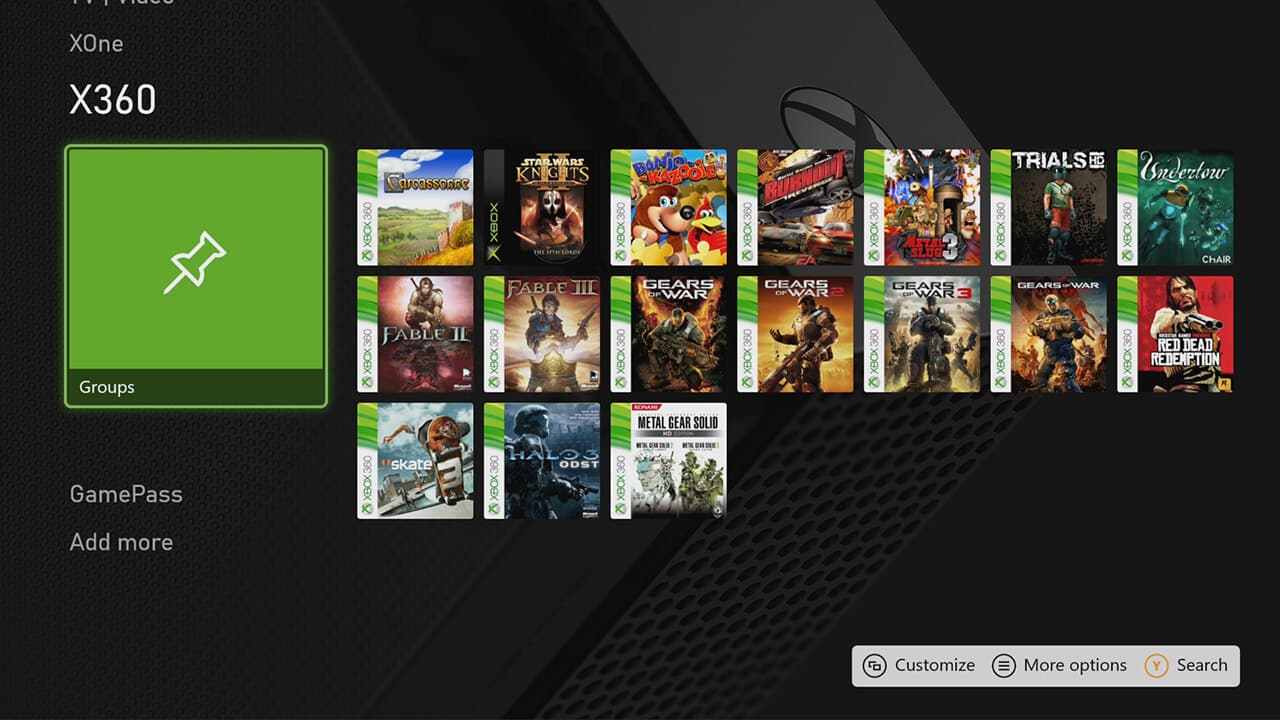 Enough with the boring stuff.
Time to talk about games you can enjoy on the One X (spoiler alert: it's good! 😍).
Exclusive licenses to enjoy on the Xbox One X.
Think what you want, but numbers don't lie; Sony and their PlayStation 4 won the 8th generation fair and square. With incredible exclusives such as Uncharted 4, Uncharted: Lost Legacy, Marvel's Spider-Man, Final Fantasy VII Remake, Death Stranding, or, my little favorite, The Last of Us Part II, Microsoft failed to compete.
That said, I'm an absolute fan of exclusive Microsoft licenses such as Halo, Gears of War, Fable, and Forza Motorsport. Because I am no PC gamer, I had to get an Xbox One X to finally have a chance to play the latest exclusives or revisit ancient titles in their enhanced versions (more on that later).
I have selected a couple of exclusive licenses to play to and enjoy at their best on the Xbox One X.
It's worth mentioning that Xbox Exclusives are part of the Xbox Game Pass. It means you can play the following games at no extra cost (as long as you have an Xbox Game Pass subscription).
Halo Master Chief Collection + Halo 5: Guardians
Since 343 Industries took over the license, Halo lost a bit of its supreme. But it is still one of the best FPS series around on console.
Besides, whether you have played this space opera FPS before or not, the One X delivers the best versions of all Halo games released to this day. The Master Chief Collection initially includes four titles and can be found for a reasonable price. For instance, I bought it used for €10.
Halo 3: ODST and Halo Reach were remastered for the Xbox One later and can be purchased as DLCs for owners of the collection.
Halo Reach (DLC)
Halo CE Anniversary (remake of the original title released in 2001)
Halo 2 Anniversary (remake of the original title released in 2004)
Halo 3: ODST (DLC)
Halo 4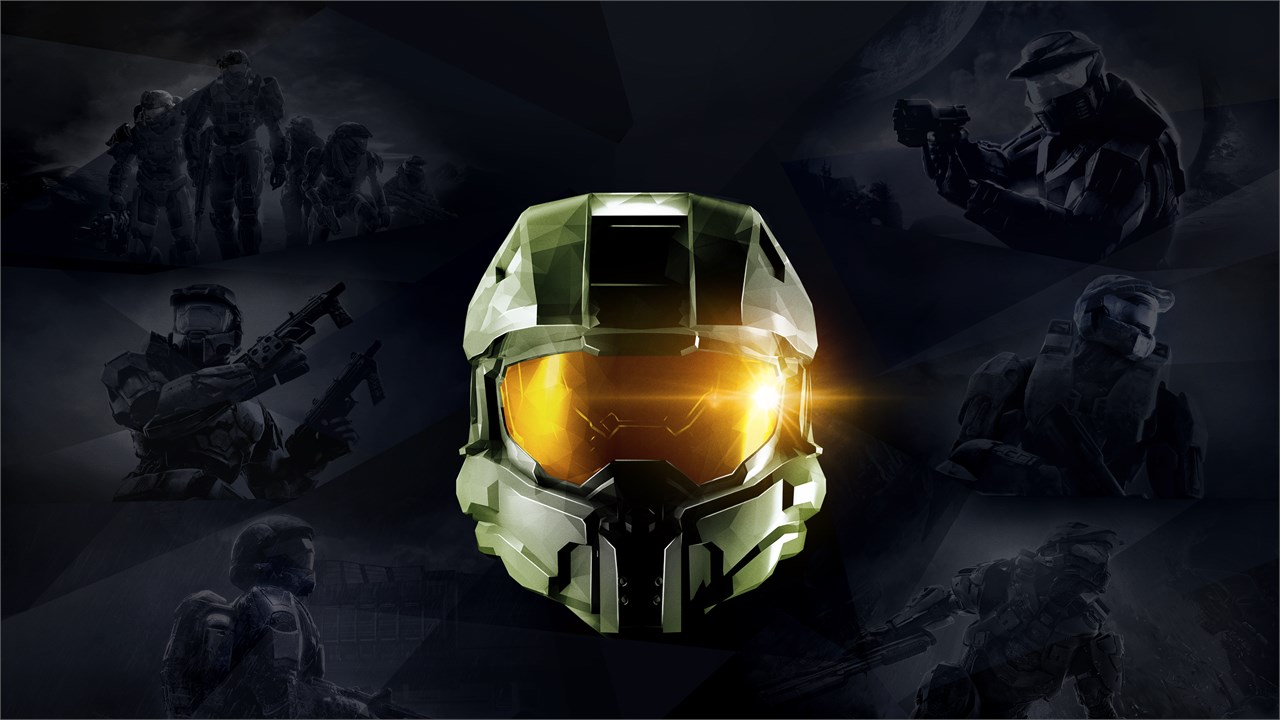 Additionally, you should also look into Halo 5: Guardians and Halo Infinite, even though they are, in my opinion, the weakest entries in the series.
Forza Motorsport 7 + Forza Horizon 4
If you like racing games, you need Forza Motorsport 7. It offers a well-oiled gameplay mixing arcade and simulation and contains an insane amount of content:
33 locations.
700 cars.
Live weather conditions.
4K at 60fps (only on the Xbox One X)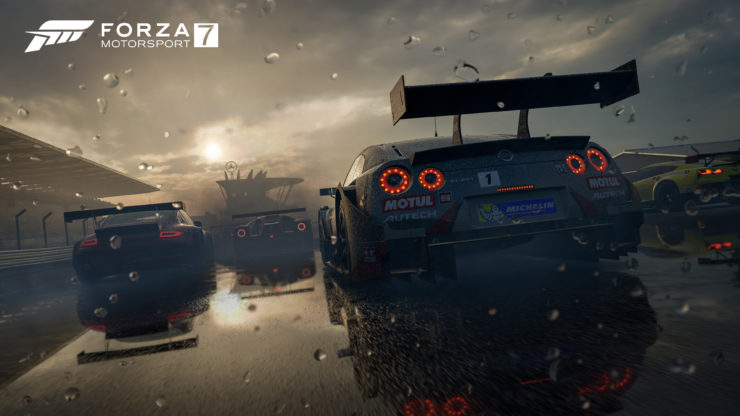 Forza Motorsport 7 is One X's storefront in terms of performance.
Alternatively, if you're looking for a more arcade challenge, consider playing Forza Horizon 4.
All 6 Gears of War games
Gears of War is yet another iconic license that's exclusive to the Xbox consoles.
Not only is the One X fully backward compatible with all four titles released on the Xbox 360 (Gears of War, 2, 3, and Judgement), but it enhances the 2nd and 3rd episodes with a crisp 4K display. Alternatively, you can also purchase the remake of the very 1st episode, which brings a fantastic visual upgrade.
Note that, unless you own a beast of a PC at home, the Xbox One X is also the most affordable gaming platform to play Gears of War 4 and Gears 5 in 4K.
And the best part? You can find all of those games for less than €20/$20 apiece (probably the best part for being a late adopter).
Multiplatform games look their best on the One X (vs. PS4 Pro)
Like the PS4 Pro, the One X lets you choose between resolution and game performance modes on selected games. In most cases, the two modes offer the following:
Resolution mode = 4K gaming at 30fps
Performance mode = 1080p at 60fps
Because Sony's PS4 Pro doesn't display native 4K (it upscales the signal instead), the One X always delivers the most enjoyable experience on multiplatform games.
See it for yourself.
Take a look at Digital Foundry's comparative video tests.
Red Dead Redemption 2: Xbox One X vs. PS4 Pro
Star Wars Fallen Orden: Xbox One X vs. PS4 Pro
Shadow of the Tomb Raider: Xbox One X vs. PS4 Pro
F1 2020: Xbox One X vs. PS4 Pro
Some of the differences with the PS4 Pro are noticeable on selected games – Read Dead Redemption 2 is probably the best example. However, you won't feel the differences in most cases unless you compare the two versions side by side.
To conclude this section: the Xbox One X is undoubtedly the best 8th gen console to play multiplatform games – especially if you have a 4K television at home. However, the gap with the PS4 Pro isn't significant enough for most players to notice anything. In other words, if you already have a PS4 Pro, aren't interested in any of the Xbox exclusives, and don't want to play 4K blu-rays, you don't need to buy a One X.
—
The Cyberpunk 2077 case
Don't expect miracles here. If the Xbox One X is the best 8th gen platform to play Cyberpunk 2077, it suffers a LOT when running it. At the time I'm writing this review, CD Red Projekt announced that they are working on a patch to improve the performance of the PS4 and Xbox One versions. Long story short, if you want to play Cyberpunk 2077, either do it on a PC, invest in the latest consoles, or wait for a miracle patch to improve the 8th gen versions.
April 2021 Update: CD Projekt did release patches to fix a log of bugs. However, the overall experience is still poor on 8th gen consoles.
—
If running games in 4K is one of the One X's most notable features, it doesn't just stop there. The console enhances the overall gaming experience, from refining textures to stabilizing the framerate. This means that you can still benefit from the One X's power boost, even if you're playing on a 1080p TV. That's especially true for enhanced backward-compatible titles.
Enhanced backward compatibility* 😍
* Also called backwards compatibility.
The Xbox One X is the best console around to play Original Xbox and Xbox 360 games.
In most cases, the One X makes games look sharper (up to a 4K upscale on selected titles), corrects framerate drops, and drastically improves load times. The experience is even fully enhanced for the One X on certain games (find the up-to-date list here). I tried a couple of games to challenge my One X, hoping to be positively surprised: I tried Read Dead Redemption, Knights of the Old Republic 2 (KOTOR 2), Fable II, and The Witcher 2.
While Red Dead Redemption looks GREAT with a 4K upscale, I was most surprised by KOTOR.
The OG Xbox and Xbox 360 were really struggling to run the game properly. The frame rate would often drop below the 20s, textures were very blurry, aliasing was all over the place, and navigating the menus was a painful experience.
Well, the One X corrects all of it. The framerate is much closer to a solid 30 (with occasional drops), textures are sharper, menus are now smooth, and loading times are so much faster than before. The experience was so comfortable that I ended up playing the game from A to Z again.
Xbox Game Pass: enter the Xbox ecosystem at the best price
To date, the Xbox GamePass is the best gaming service around to play recent AAA titles for an affordable price. The GamePass gives you access to hundreds of games (including all first-party studios' games on day one) that you can download and play as long as you're subscribed to the service.
Xbox Game Pass Ultimate
It includes:
Access to hundreds of games for console, PC, and Android mobile devices
Xbox Game Studio titles on day one.
Member discounts and deals
Xbox Live Gold: A XBL Gold membership is required to play online and costs $9 a month on its own.
EA Play
Price: $14.99/mo
Game Pass Console or PC
It includes:
Access to hundreds of games
Xbox Game Studio titles on day one.
Member discounts and deals
Price: $9.99/mo
More information here.
Rent or buy video games – A new approach to gaming
I'm not a fan of the Game Pass and new PlayStation Plus models. We're heading towards a 100 % dematerialized gaming industry, and I just don't like it.
On the one hand, the growth of dematerialized gaming means that our local game stores will soon close their doors as they cannot compete with such services.
On the other, the Game Pass offer is too much for me as I don't like playing more than a game at once, and I need time to complete them. I simply have no use for so many games at once.
Moreover, I'm not thrilled about the idea of renting games. Because this is what it's all about. You have access to this (nonetheless) formidable game library only for as long as you pay for the monthly subscription. Unsubscribe, and your games are gone.
Call me foolish or irrational, but I prefer spending a little more when buying a game to keep it for as long as I want to.
Xbox Live Gold vs. Game Pass Ultimate (GPU): What's the best option for you?
The question isn't what's the best service – the Game Pass is the best service. The question is, what's the best option for you? It comes down to two key parameters:
Price: If you pay yearly, the GPU is twice as expensive as the Xbox Live Gold. However, if you're interested in playing Microsoft's exclusives and are planning to play online, you would save quite a lot of money with the GPU.
Philosophy: if you're a bit old school — like me — and like to own your favorite games, the Xbox Live Gold is the best alternative. You can play online, get interesting discounts on the store, and get "free" games monthly for as long as you're subscribed to the service.
So, if you don't mind paying a little extra and want to play all games without spending too much and don't care about owning your games, the GPU is the best option.
Remote play your Xbox Games on the go
A feature a really enjoy is Remote Play.
Remote play gives you the possibility to control and play your Xbox wherever you are in the world, as long as you can use fast and stable internet access from your phone, tablet, or computer.
What you need to Remote Play on Xbox
An Xbox One or Xbox Series (on which remote play is enabled).
A phone (iOS or Android), a tablet, or a PC
5Ghz Wi-Fi (recommended) or mobile data connection 10Mbps down (alternative)
The (free) Xbox Companion App
For the best experience, use a wired connection at home for your Xbox.
And off you go! Just like that, I transformed my iPhone into a portable Xbox.
Now, though really good overall, the Xbox App is missing important features: it's not available on Mac and the iOS and Android apps don't support Original Xbox and Xbox 360 games.
That's a big problem for me.
Fortunately, an alternative exists, and it's called OneCast. In my experience, this non-official Xbox remote-play alternative is also more stable than the Xbox companion app.
Of course, OneCast is far from perfect. It's not free (it varies between $/£/€10 and $/£/€20) and can only be used on the same internet network.
I personally use OneCast at home, to enjoy old and new Xbox games on my phone when the TV is busy, and the Xbox App when on the go.
Xbox accessories: a cross-gen ecosystem
The Xbox controllers have always been well-designed (except for the OG Xbox Duke controller).
One thing that I have struggled with when buying second-hand consoles was finding extra controllers in good condition. As an example, I recently (re)purchased an Xbox 360 with three controllers. I had to change the battery holster and all six analogs to use them. The main problem is that accessories usually don't transition from one console generation to another.
Until now.
Microsoft is trying to build an Xbox ecosystem. For this reason, they made sure that accessories designed for the Xbox Series S|X are compatible with the Xbox One consoles. Similarly, Xbox One controllers are also compatible with the Xbox Series consoles.
–
Another positive trait of playing on the Xbox One is battery life. Like the Xbox 360 controllers, Microsoft designed the Xbox One controllers to work with removable batteries (vs. lithium batteries for the PS3, PS4, and PS5). Of course, this means that you always need to have a set of charged batteries nearby just in case and lose the comfort of simply plugging your controller when you're done playing. But that also means that you can play a lot longer before having to charge (depending on the batteries you're using).
Real accessibility for all
Another element that's worth mentioning in favor of the Xbox One (and the overall Xbox ecosystem for that matter) is accessibility features and accessories.
When navigating through the menus of the Xbox One, you'll quickly realize that you can adjust the parameters to make the console interface more accessible for all:
Edit colors
Edit the size of the font and menus
Better even, Microsoft partnered up with The AbleGamers Charity, The Cerebral Palsy Foundation, SpecialEffect, or Warfighter Engaged to release the Xbox Adaptive Controller (or what we can consider the ultimate controller), to allow players with limited mobility to enjoy gaming as if they were valid – as terrible as that word sounds.
The Xbox Adaptive controller is a hub on which you can connect many external devices (switches, buttons, mounts, or joysticks) to open the world of gaming to those who can't play with regular controllers.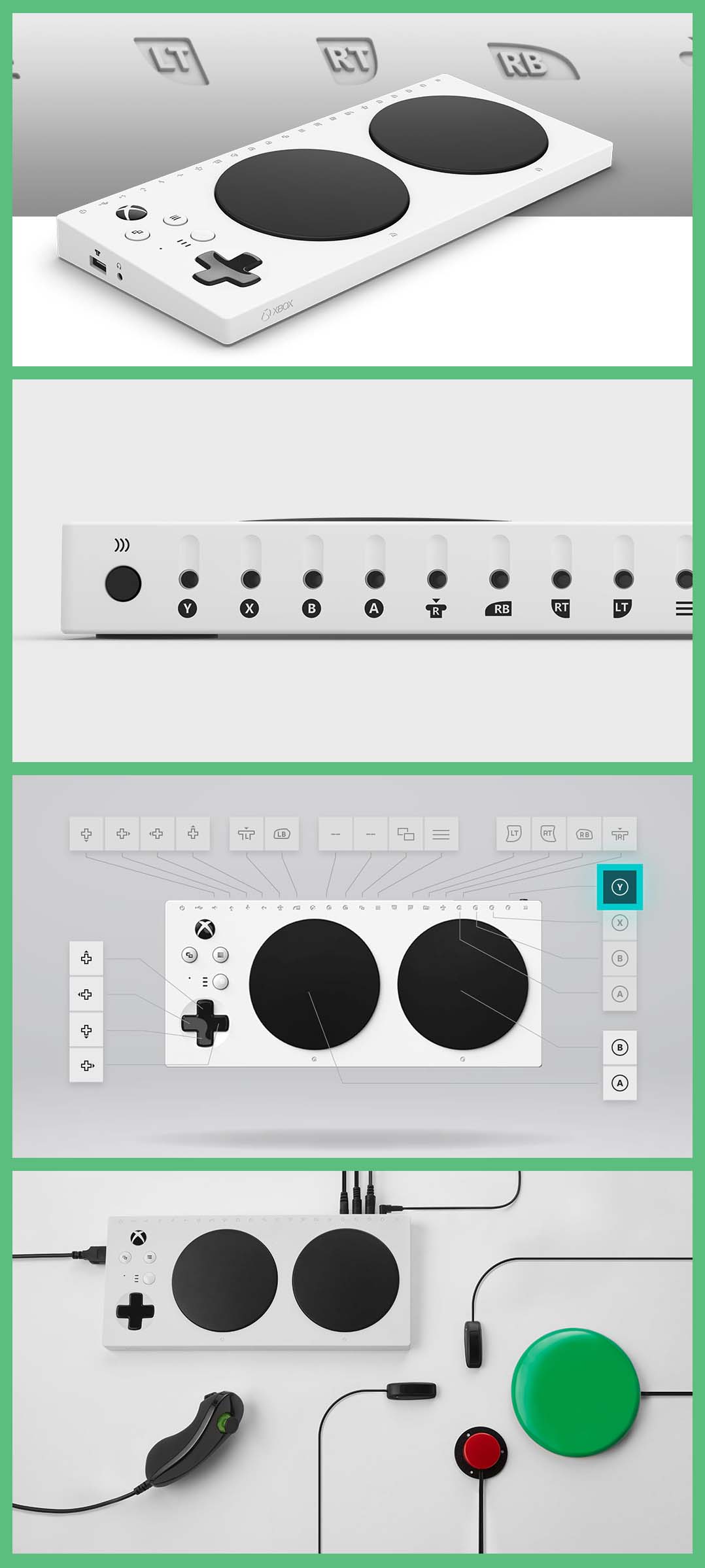 Image source: Xbox.com.
The Xbox Adaptive Controller is compatible with Xbox devices and PCs and (only) costs $99.99. Given its actual value and the happiness it can provide, I'd argue that this is quite affordable.
Buying a previous-gen game console means … cheaper games!
Another reason why buying an Xbox One makes a lot of sense today is cheap games. It applies to both new and used Xbox One games and physical/digital copies from the Microsoft Store.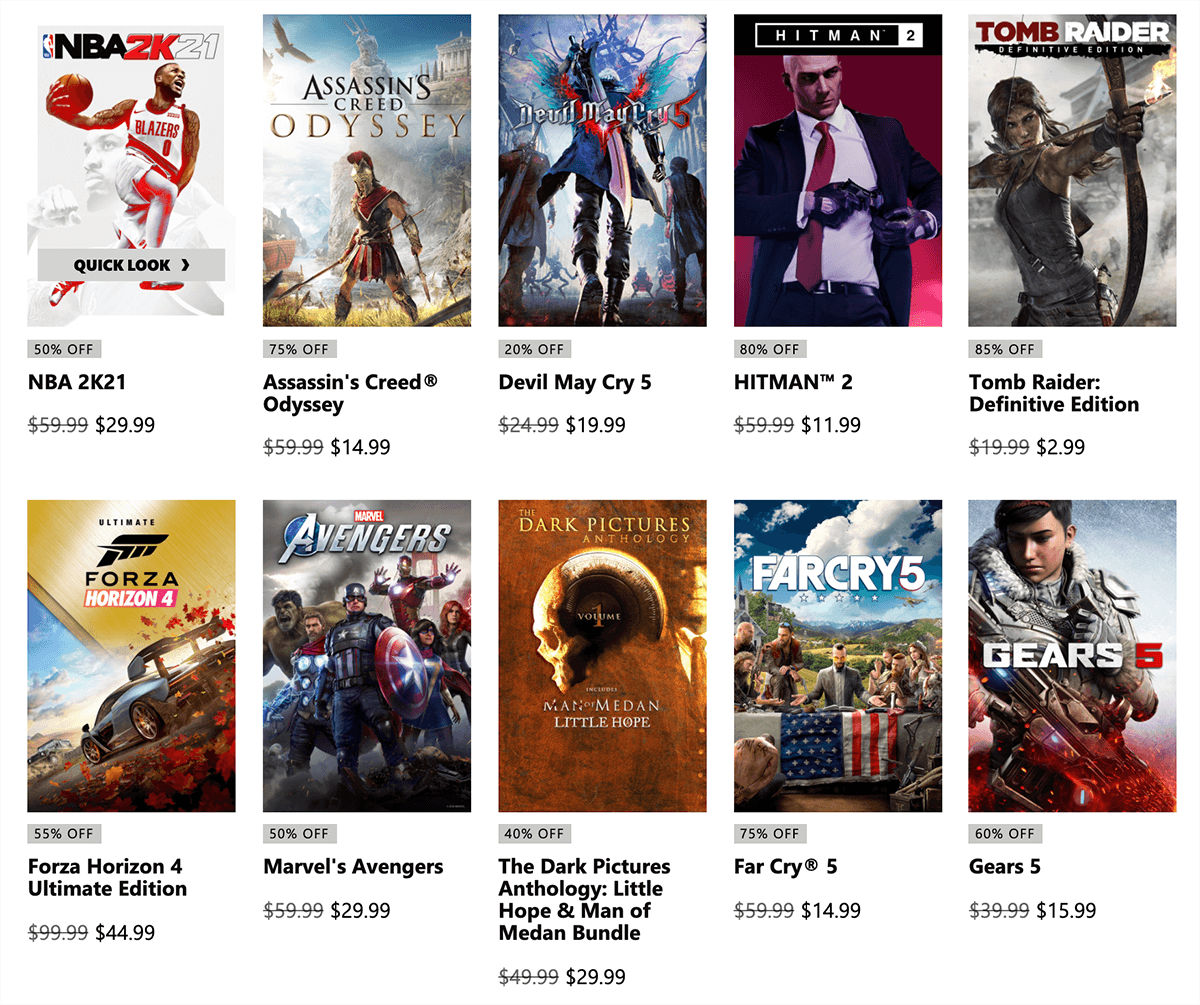 Recent games usually sell from $/€50 to $/€70. Previous-gen games usually sell for under $/€20. 
For the best deals, I'd suggest looking at what your local game store offers. Besides, now that the PS5 and Xbox Series are out, you can expect the best prices as people will look for fast and easy cash to buy the latest machines.
What's a reasonable price for a new Xbox One X?
No more than €150.
An important thing to remember is that Microsoft no longer manufactures the Xbox One X (so you might find it challenging to find a new console). And retailers with Xbox One X in stock are shamelessly selling them at astronomical prices. Here's an example from Amazon.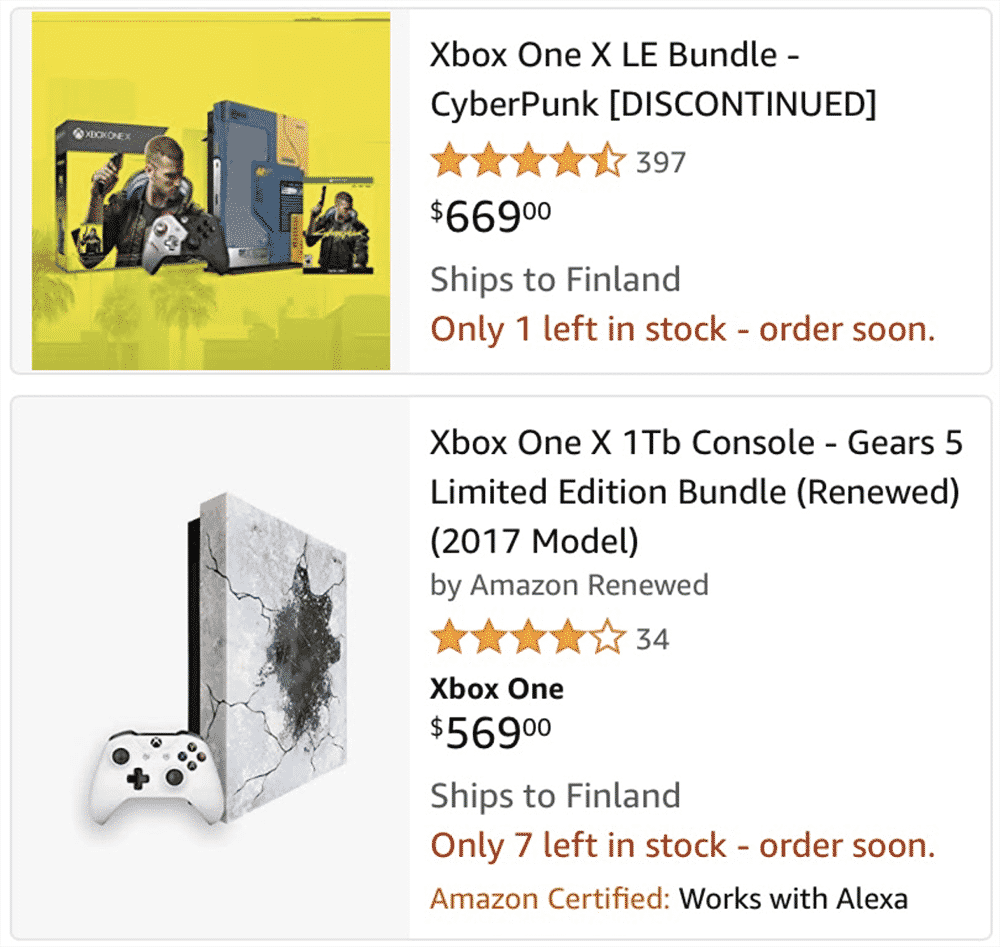 Yup, this is more than the Xbox Series X. Ridiculous.
My advice? Turn to the second-hand market. This is what I did, and I regret nothing.
I bought a second-hand Xbox One X in November 2020 for €150. It was in pristine condition, and so was the controller I got with it.
—Alternatively, you can easily find an Xbox One S for 80-100€ if you can't stretch your budget above that.
Are you buying second-hand? Fight the dust!
What is the difference between second-hand and new hardware? Dust!
Given enough time, the dust has the power to damage your electronics. You need to get rid of it.
I recommend following TronicsFix's tutorial to open and clean your Xbox One X:
Opening a console is probably intimidating if you're not used to doing such things. We've all been there, eventually. If you follow TronicsFix's tutorial, you won't break anything. Just make sure that you have the right equipment, take your time, and you'll be fine.
SSD update – a needed processing power boost?
It's important to point out that you can also replace the 1 TB hard drive of the Xbox One X with any 2.5 HDD or SSD. Now, because the games are meant to run on HDD, you won't see a significant bump in performance when using an SSD on the One X.
Does it improve performance? Yes. Is it worth spending hundreds on a 1 TB 2.5 SSD? Not really. What's interesting, however, is to use an external SSD to expand your console's storage and significantly improve its performance.
Here's a video showing exactly this:
If your plan is to upgrade your console's storage and don't really care for shorter loading times, you can connect any 3.0 external hard drive to your Xbox — You can easily find a 2 TB HDD for under $/€100.
A note on the overall repairability
Another thing to consider when acquiring a used console (or, at the very least, a console that's not manufactured anymore) is its repairability.
Here again, Microsoft's console is a catch. iFixit gave it 8 out of 10 for reparability.
As mentioned above, I opened my Xbox One X to clean it and renew the thermal paste, and I was surprised by how easy it was to take it apart and then back together.
⚠️ Opening the console will automatically void the two years warranty. I recommend doing this only past the warranty.
"I already have a PlayStation 4. Should I also get an Xbox One X?"
That depends entirely on whether you want to play games exclusive to the Xbox or if you don't have a gaming PC at home.
The vast majority of the titles available on PS4 are also available on Xbox One. Now, if you don't own a high-performing PC, want to watch 4K blu-rays, AND want to play Xbox-exclusive games at an affordable cost, the Xbox One X is what you need.
Verdict: good buy, or goodbye?
Is the Xbox One X an excellent gaming machine? Yes.
Should you buy it? It depends.
The Xbox One X is worth it if you want to:
Play in 4K without spending a fortune.
Watch 4K Blu-ray movies.
Play enhanced OG Xbox and Xbox 360 titles.
Benefit from Xbox exclusives.
Enjoy hundreds of games, including in the Xbox GamePass (if you don't mind renting games).
Sure, it's nice to play with the latest toys. But, at the moment, I see the Xbox One X as a great compromise to game at home in great conditions.
The console is reliable, fast, performs well, and now ranges (second-hand) between 100 to 150 bucks.
Note that the few new Xbox One Xs remaining on the market at often overpriced. If you're only willing to buy it new, I recommend you skip the One X and buy the Xbox Series X instead.