In short
The PlayStation 4 is a fantastic console. That's especially true if – like myself – you're really after solo narrative games such as Uncharted, God of War, Spider-Man or The Last of Us.
Read the full review for more.
A couple of weeks ago, someone asked me to name my favorite game console of all time.
Here's a tricky question.
I felt compelled to answer: "THE PLAYSTATION 2!". After all, the PS2 had So. Many. Great. titles:
Final Fantasy X
Silent Hill 2
Jak and Daxter
GTA III, Vice City, and San Andreas
Max Payne…
… to name just a few. And I could go on for a while.
Now, if we're objective, the PS2 is not the best gaming platform to play those games anymore. The newer consoles, including the Xbox One | Xbox Series X and S, the PlayStation 4, and 5, now offer alternatives to run those titles with an HD coating and better overall performance.
Let's go back to the question. I told my friend that the PlayStation 4 is my favorite. I bought mine in 2016, and I have had so much fun with it.
It has great games, it's reliable, millions of people to play with, and it's now affordable, with the Xbox Series and PS5 out on the market (though vastly unavailable at this time).
Anyhow, does it make sense to play the PlayStation 4 in 2022? Or is it too late to buy yours since the PS5 is already out? Answer in this subjective review.
—
Conditions of the review
I own a PlayStation 4 PHAT. I bought it new in 2016 and have since renewed the thermal paste and replaced the 500 GB hard drive with a 1 TB SSD.
—
Let's begin with a bit of history.
The domination over the Xbox One
The PS4 was released in November 2013 in the US and Europe, and only 4 months later, in March 2014, in Japan. So, if you think that the PS5 launch was unfair and chaotic, here is some food for your thoughts.
Eight years later. Mission accomplished.
As of February 2021, Sony sold over 115M PS4s around the world, making it the 4th best-selling console in history, behind the GameBoy (118M), the Nintendo DS (154M), and the PlayStation 2 (157M). (source: VG Chartz).
The PS4 outcompeted the Xbox One (50M units sold as of February 2021) from the beginning to the end of the eighth generation of consoles.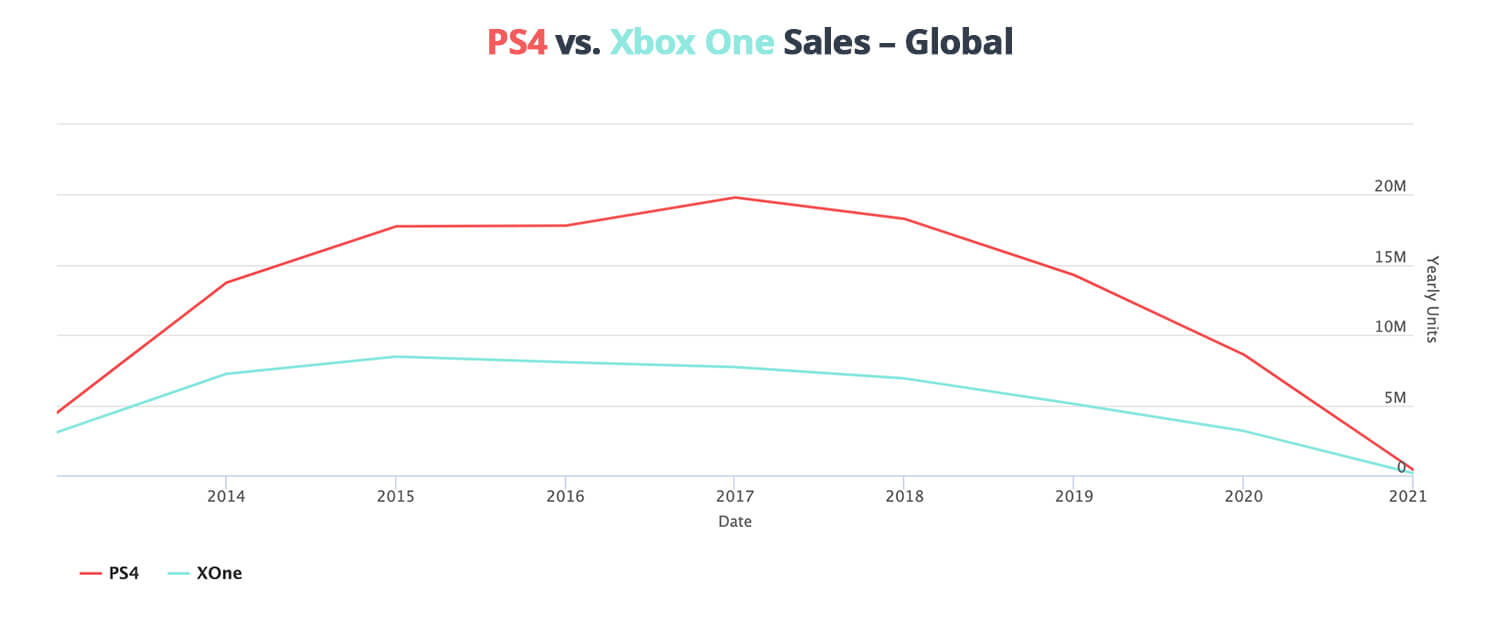 The PS4 even won in the US, Microsoft's homeland.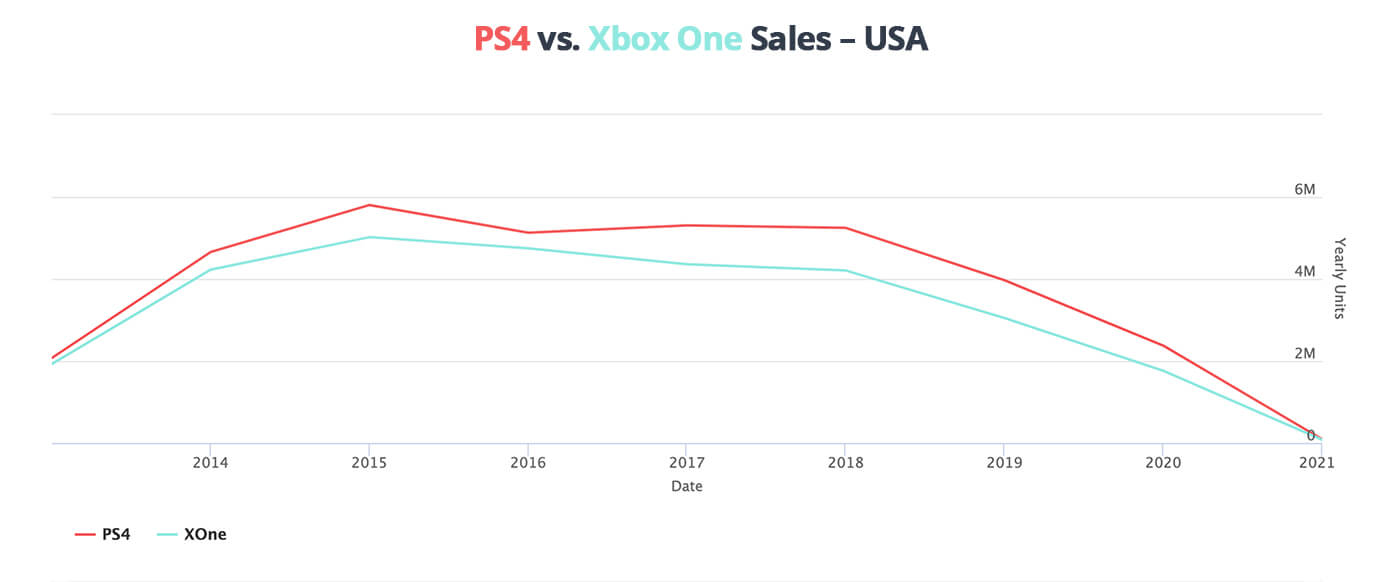 In Japan, the Xbox One never really existed (no surprise there).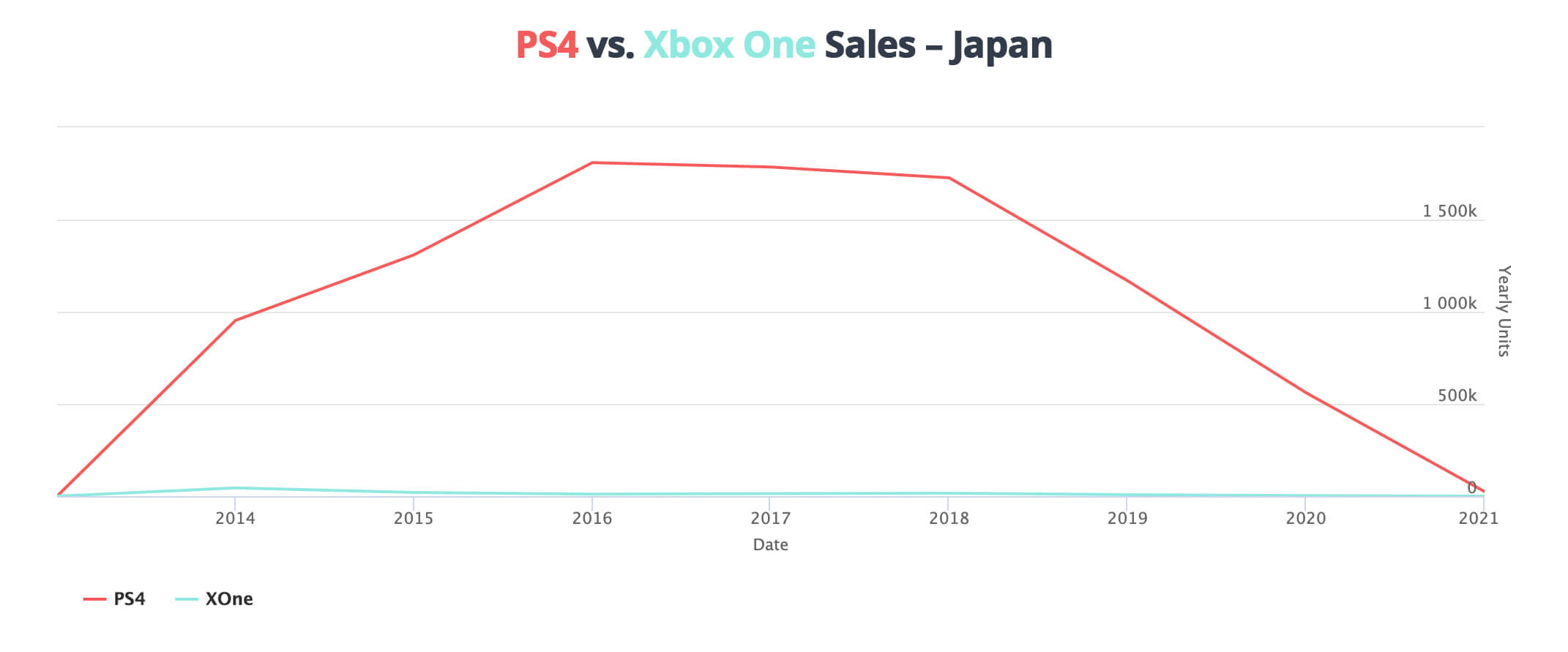 If we count Japan out, the relative failure of the Xbox One—compared to the success of the PS4—can be explained by the lack of interest from European gamers, where the Sony PlayStation brand is a lot stronger than in the US – relatively to the Xbox brand.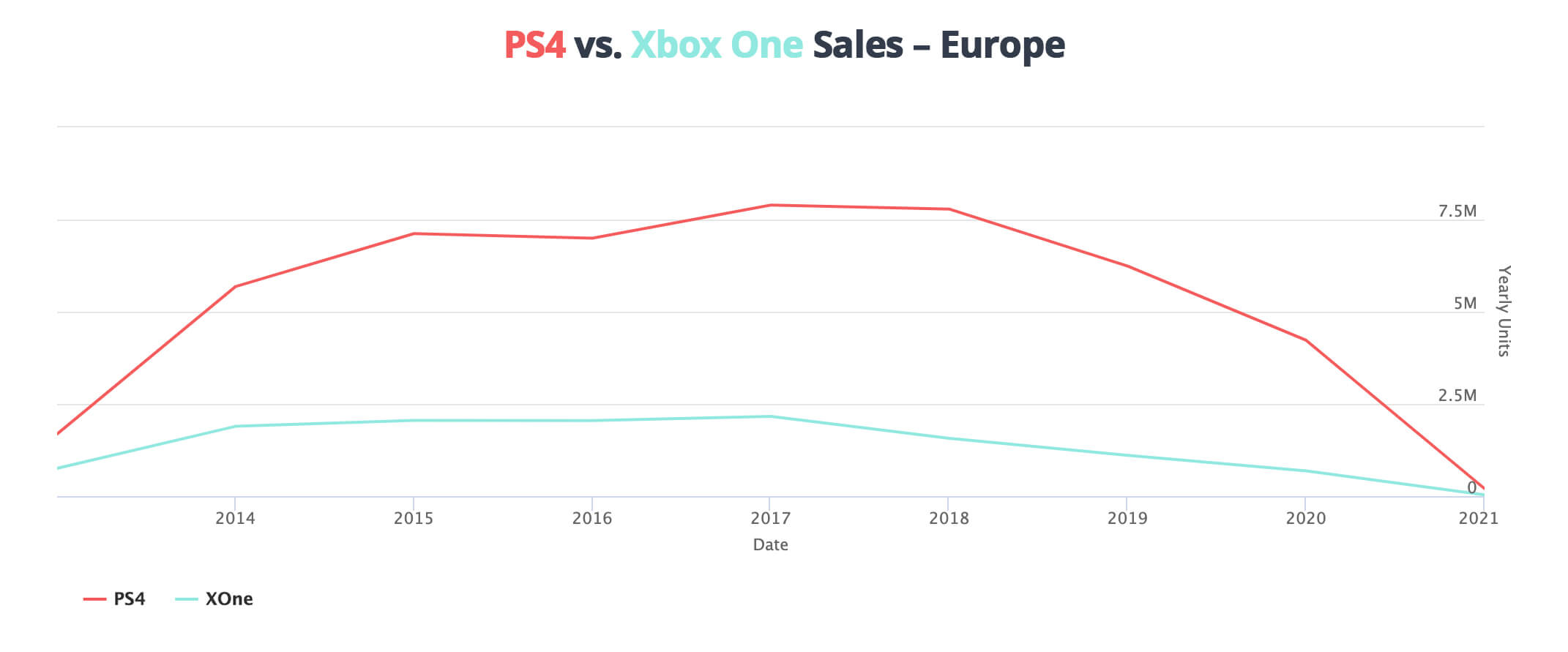 Long story short, the PS4 was a worldwide success.
PlayStation 4 – PlayStation 4 Slim – PlayStation 4 Pro: Which one should you buy?
There are essentially three models of PlayStation 4, and they are relatively easy to differentiate.
The Original PlayStation 4 (2013)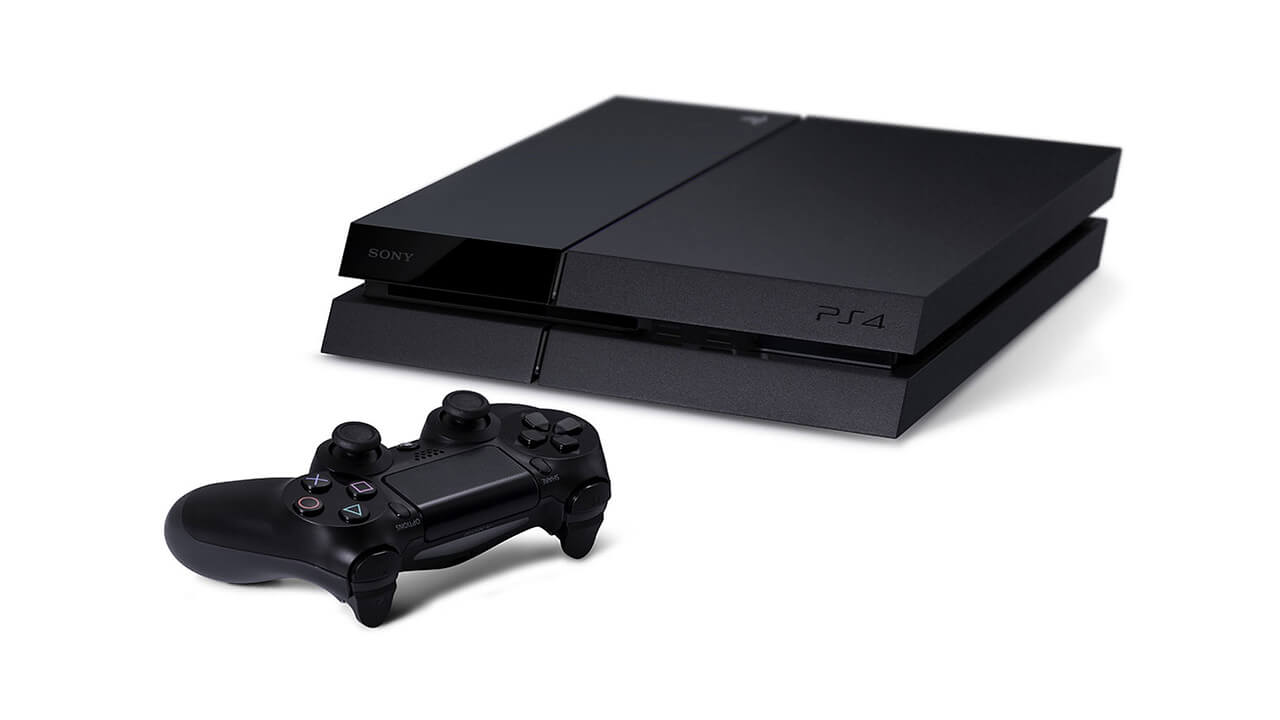 Dimensions: 10.8in x 12in x 2.09in | 27,5cm x 30,5cm x 5.3cm
Weight: 6.2 pounds | 2.8 kg
CPU: AMD Jaguar 8-core (x86-64)
GPU: AMD Radeon (1.84 TFLOP)
Storage: From 500 GB
WiFi: 802.11b/g/n (2.4GHz + 5GHz)
Max resolution (in-game): 1080p, 60 FPS
Power consumption: 250w max
Media drive: Blu-Ray disc drive
The PlayStation 4 Slim (2016)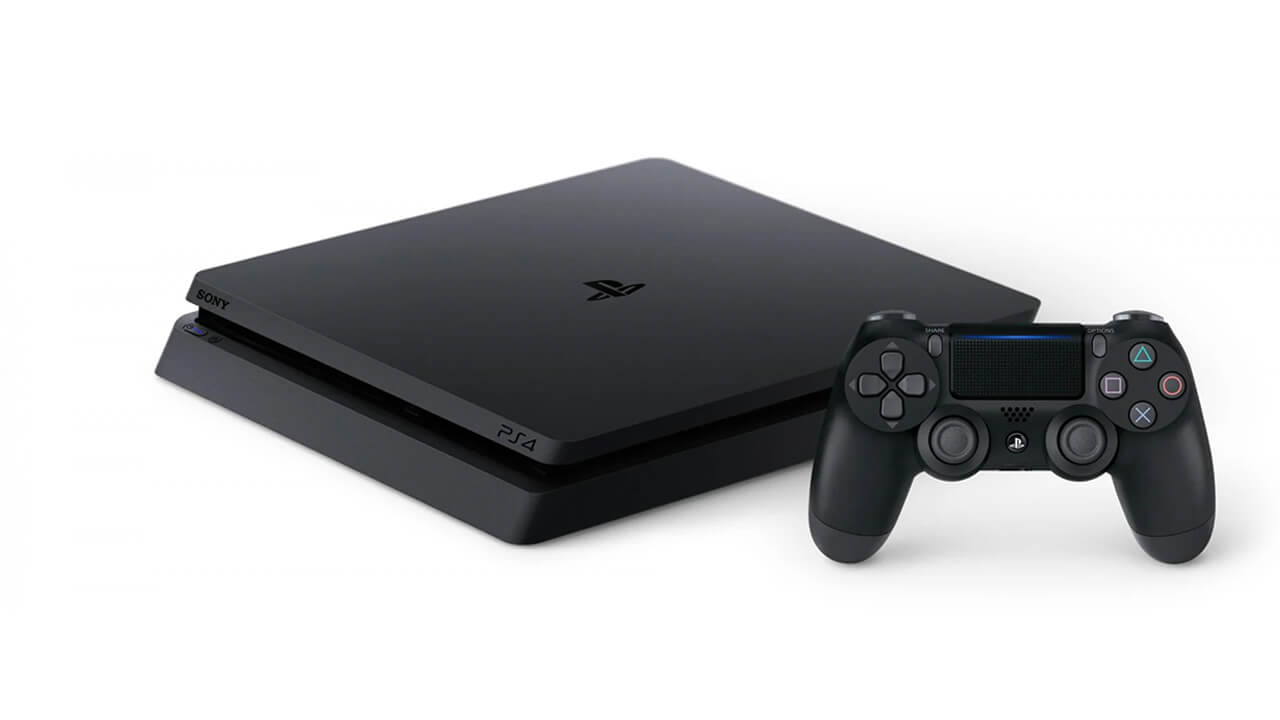 Dimensions: 10.4in x 11.3in x 1.54in | 26,5cm x 28,8cm x 3,9cm
Weight: 4.6 pounds | 2.1 kg
CPU: AMD Jaguar 8-core (x86-64)
GPU: AMD Radeon (1.84 TFLOP)
Storage: From 1 TB
WiFi: 802.11b/g/n (2.4GHz + 5GHz)
Max resolution (in-game): 1080p, 60 FPS
Power consumption: 165w max
Media drive: Blu-Ray disc drive
The PlayStation 4 Pro (2016)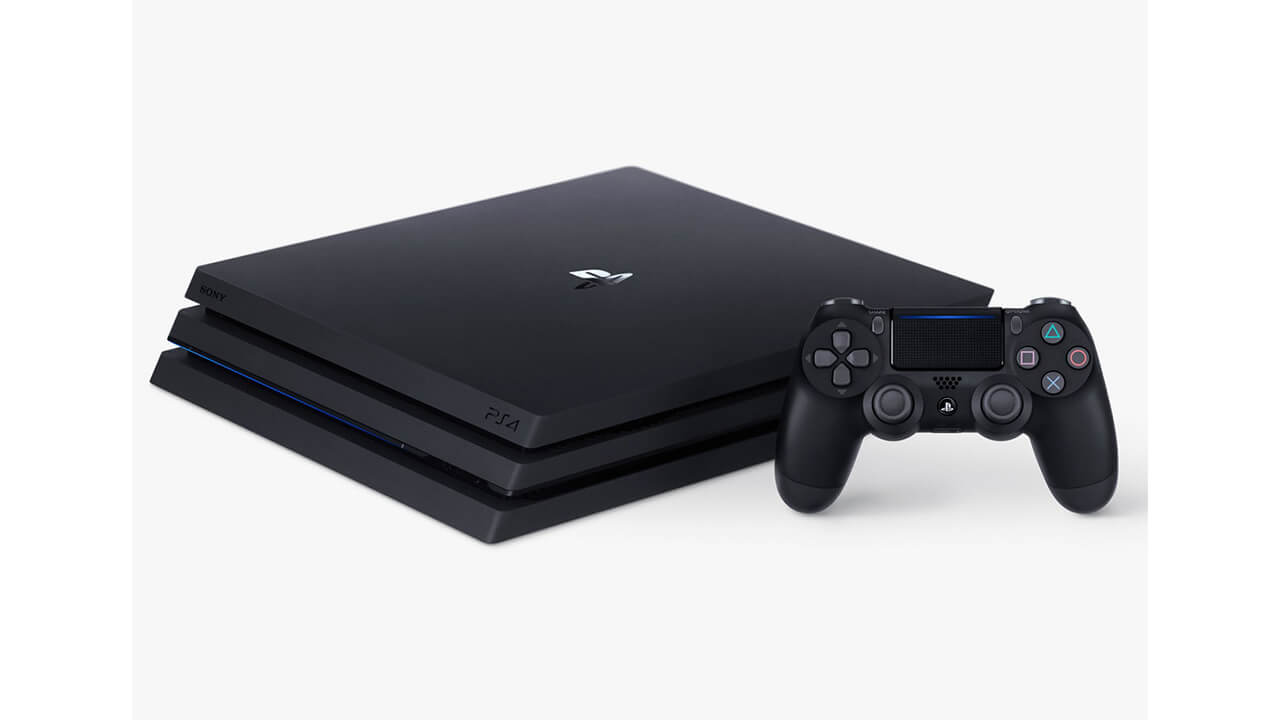 Dimensions: 11.6in x 12.9in x 2.17in | 29,5cm x 32,7cm x 5,5cm
Weight: 7.3 pounds | 3.3 kg
CPU: AMD Jaguar 8-core (x86-64)
GPU: AMD Radeon (4.2 TFLOP)
Storage: From 1 TB
WiFi: 802.11 a/b/g/n/ac (2.4GHz + 5GHz)
Max resolution (in-game): 4K, 60 FPS
Power consumption: 310w max
Media drive: Blu-Ray disc drive
4K Blu-Rays (movies): No
The PS4 and PS4 slim are the same consoles, spec-wise. However, the PS4 slim is smaller, quieter, and consumes less energy than the PS4 PHAT.
The PS4 Pro, however, is a real evolution of the PS4. It's a lot more powerful and can run selected titles in 4K.
On the negative side of things, the PS4 Pro is a beast. It's bigger and noisier than the first PS4.
As one could expect from a more powerful device, it also consumes more electricity than the OG PS4. What's more, while the PS4 Pro can display some games in a 4K resolution, it cannot read 4K Ultra HD Blu-Ray movies. Something that Microsoft did offer with its Xbox One S and X.
–
Are you looking for a cheap yet high-performing gaming device to read 4K movies? Consider buying an Xbox One X instead.
–
Performance: Base PS4 vs. PS4 Pro
I have an original PS4 PHAT at home and don't own a PS4 Pro. Yet, I'm still very much impressed with what my PS4 can do on the latest games. For instance, Red Dead Redemption 2 and The Last of Us Part II blew me away on the PS4 Phat.
Sure, the PS4 may struggle to run the most demanding games above 30 FPS, and it's not powerful enough to calculate mind-blowing ray-tracing effects, but this is not what I look for in a console. I value great gameplay, rich stories, and emotions more than a higher number of pixels.
For that, the PS4 is still very capable.
Now, there are differences between the PS4 and PS4 Pro versions on some tiles. But I don't believe that the gap is significant enough to justify an upgrade if you already have a PS4.
See for yourself; here's an example with Marvel's Spider-Man.
In conclusion
The PS4 Pro is more powerful than the PS4 PHAT and Slim models. It's factual. However, I don't think that a couple more FPS and extra shiny pixels are worth the extra bucks and saltier electricity bills. Especially since you can upgrade your PS4's performance without spending too much.
Hardware update
You can boost your PS4's performance by updating its hard drive. The PS4 and PS4 Pro use 2.5 HDDs that you can switch for an SSD, or best, a Hybrid HDD.
HDD vs. SSHD vs. SSD for your PS4
The PS4 is a lot easier to upgrade than the Xbox One. The best part is that you don't need to void your warranty to upgrade your PS4 with a high-performing hard drive or an SSD.
Upgrading your storage has two benefits. You can:
increase the available storage.
Boost the overall performance of your console.
While the first point is obvious, the second one needs clarification. The PS4 and PS4 Pro and their games are made to work with HDDs. If you know how HDDs work, you also know that they are now outdated and read data at much slower speeds than SSD drives.
But the PS4 and PS4 Pro can't fully exploit an SSD's reading speed. By putting an SSD in your console, you'll get the best possible experience, but that will cost you a lot of money. The best alternative is a Solid State Hybrid Drive (or SSHD), as it takes the best of both worlds. In other words, an SSHD combines the cheap storage of an HDD and an SSD performance.
Here's a look at the performance boost you get when upgrading your PS4:
To sum up, the HDD comes in last. The SSD comes 1st, followed very closely by the SSHD. If you want to upgrade your storage space without spending too much, get an SSHD. The 2.5″ Firecuda from Seagate usually is the best option.
—
Are you not convinced? I suggest that you explore YouTube for more videos like this one. Spoiler alert: you'll see the same results.
—
If you're simply looking for extra storage and don't really care for extra performance, you can consider investing in the 2.5″ Barracuda HDD from Seagate.
Alternatively, you can also plug in an external hard drive via USB to expand your console's storage. Here are the requirements.
Minimum storage capacity: 250 GB
Maximum storage capacity: 8 TB
Requires USB 3.0 minimum (USB 2.0 read speeds are too slow)
Is the PlayStation 4 Pro better than the Xbox One X?
This is the million-dollar question of the 8th Generation of consoles. The Xbox One X outranks the PS4 Pro in all technical aspects. It's more powerful, smaller, silent, and—that's subjective—a lot nicer looking.
>> See the differences between the PS4 Pro and the Xbox One X.
In reality, it comes down to the licenses you want to play. If you're looking to play Halo and Gears of War, buy an Xbox. If you're after experiences like Uncharted, The Last of Us, or Ghost of Tsushima, buy a PlayStation 4.
Incredible exclusive adventures await
As briefly mentioned above, the PS4 is home to fantastic adventures. I've selected six exclusive licenses that you need to play if you already have or are about to buy a PlayStation 4.
The Last of Us: Remastered and The Last of Us Part II
Single Player* | Action, Infiltration, Survival-Horror | 2014 (Part I), 2020 (Part II)
Developed by Naughty Dog, The Last of Us, and The Last of Us Part II are action/infiltration/survival-horror games.
—
TLOU Part I was initially released on the PlayStation 3. The PS4 version brings a better frame rate, sharper graphics, and also contains the DLC: Left Behind.
—
Is there still a need to introduce The Last of Us? After a mysterious disease ravaged the entire country, turning people into zombies, the game plunges us into the post-apocalyptic US. You will love and hate to enter Joel and Ellie's world in what is one of the most remarkable video game series of all time.
If, like me, you like games with a strong narrative, you'll quickly realize that TLOU Part I and II are not only among the best PS4 games but among the best games of all time. 
Another essential detail to point out here is that The Last of Us isn't trying to reinvent the wheel with its gameplay. But what it does, it does pretty well.
Check out the first hour of The Last of Us:
Did you know? You can play TLOU with up to 7 other players via the Faction online mode.
Final Fantasy VII Remake
Single Player | RPG | 2020
Announced at E3 2015 and developed by Square Enix, FF7 Remake was released on the PS4 in April 2021. As its title suggests, the game is a remake of Final Fantasy VII, initially released on the PSX and PC in 1997.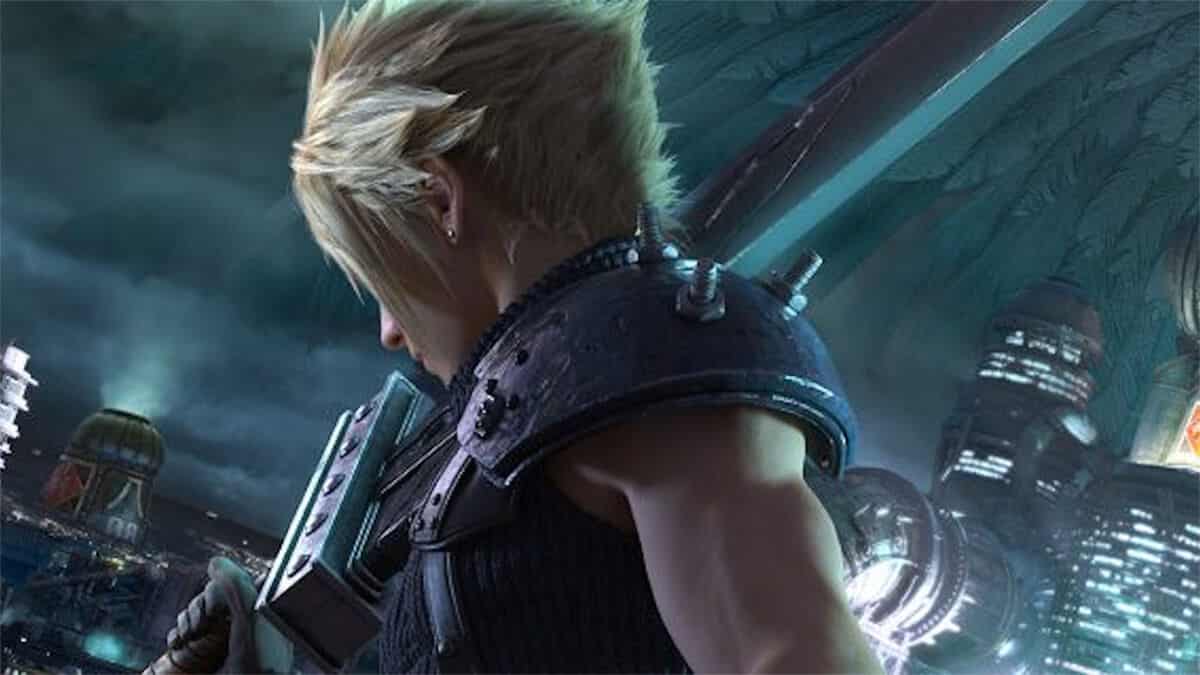 Interestingly enough, FF7 Remake places the focus on Midgard, which is only a fraction of the original game.
Yet, you can expect 40 hours to finish the game. Not that impressive for a J-RPG, but alright considering that the title is now a lot cheaper (between 20 and 40 bucks).
Did you know? FF7 Remake won the Best Role-Playing and Best Score and Music awards during the Game Awards 2020.
Marvel's Spider-Man
Single Player | Action, Adventure | 2018
Released in September 2018, Marvel's Spider-Man is an open-world exclusive to the PS4 developed by Insomniac Games.
I've never been a fan of Spider-Man games in the past – and they never received the care and budget necessary to create a great gaming experience. Well, it changed with this PlayStation exclusive.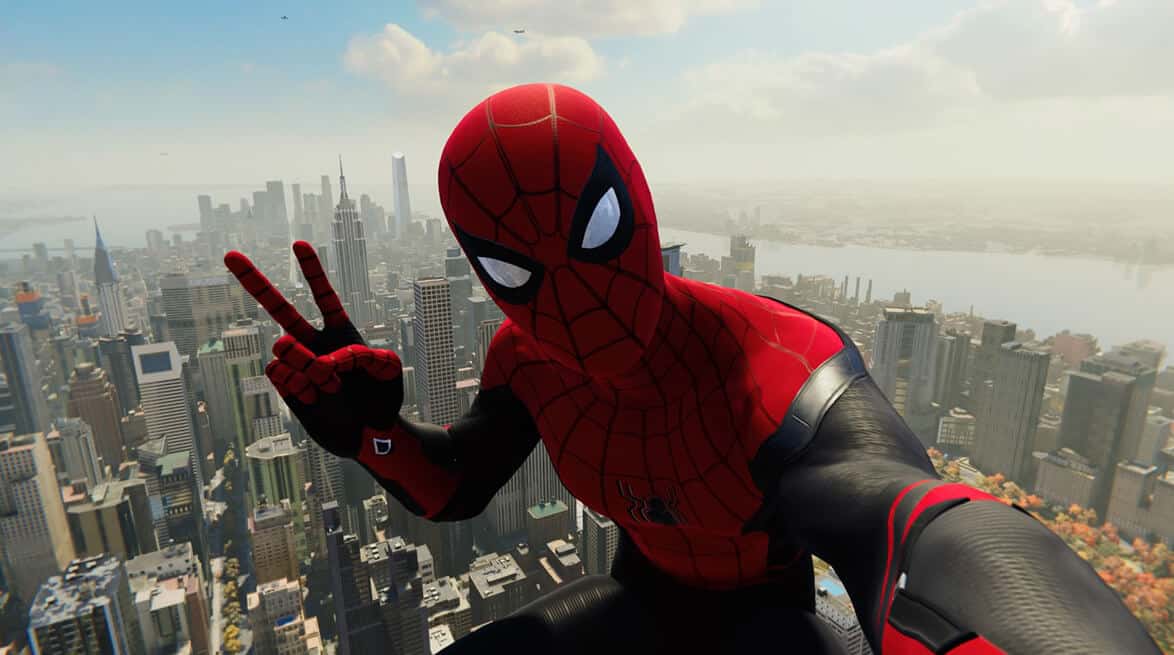 You play as Peter, in an incredibly well modelized New York. Anything you see in Manhattan is your swinging playground.
If the game is a real treat for the eye, it also impresses with its atmosphere and smooth gameplay.
A "must-play" on PS4 (and PS5).
Horizon: Zero Dawn
Single Player | Action, RPG | 2017
Developed by Guerilla, Horizon: Zero Dawn is an open-world Action-RPG game.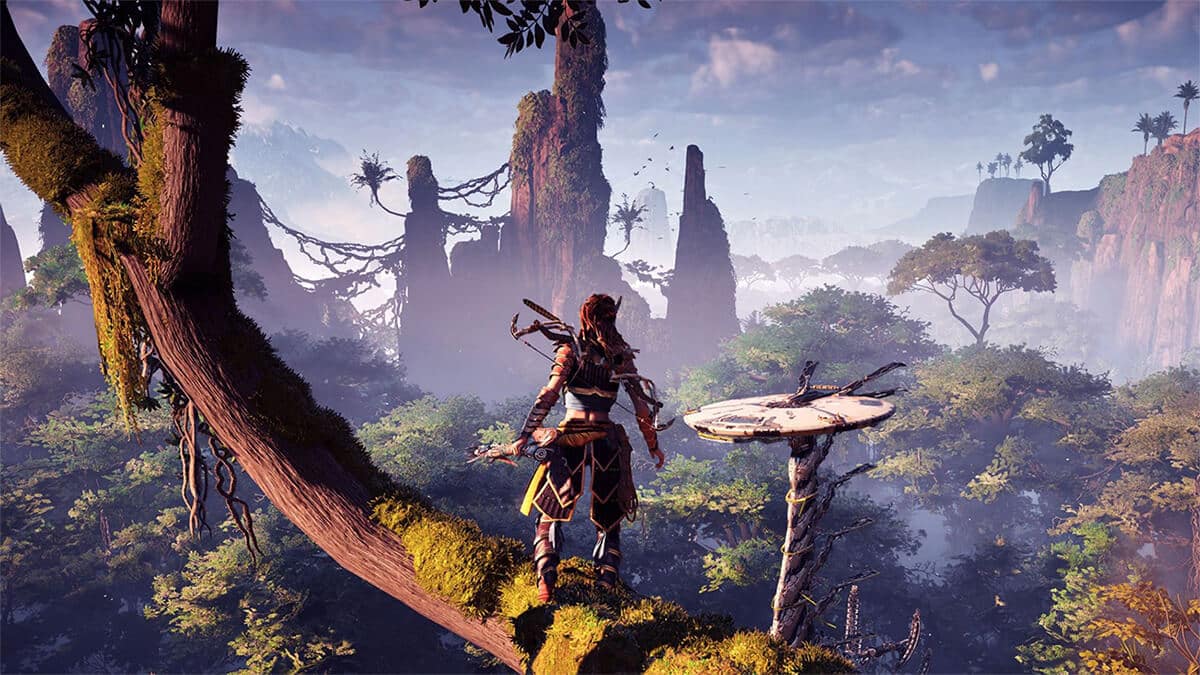 Horizon takes us to a devastated yet vibrant post-apocalyptic world, where machines have taken over humanity. You play as Aloy, a skillful hunter who can rely on her speed, cunning, and agility to stay alive and protect her tribe from the machines.
Providing incredible freedom and well-oiled gameplay, Horizon is one of the most exciting games of this generation.
God of War
Single Player | Beat'em All | 2018
Released in 2018 on the PS4, God of War is a Beat'em All developed by Santa Monica Studios. In this new episode of God Of War, Kratos evolves into a world with Nordic inspirations filled with forests, lakes, and mountains.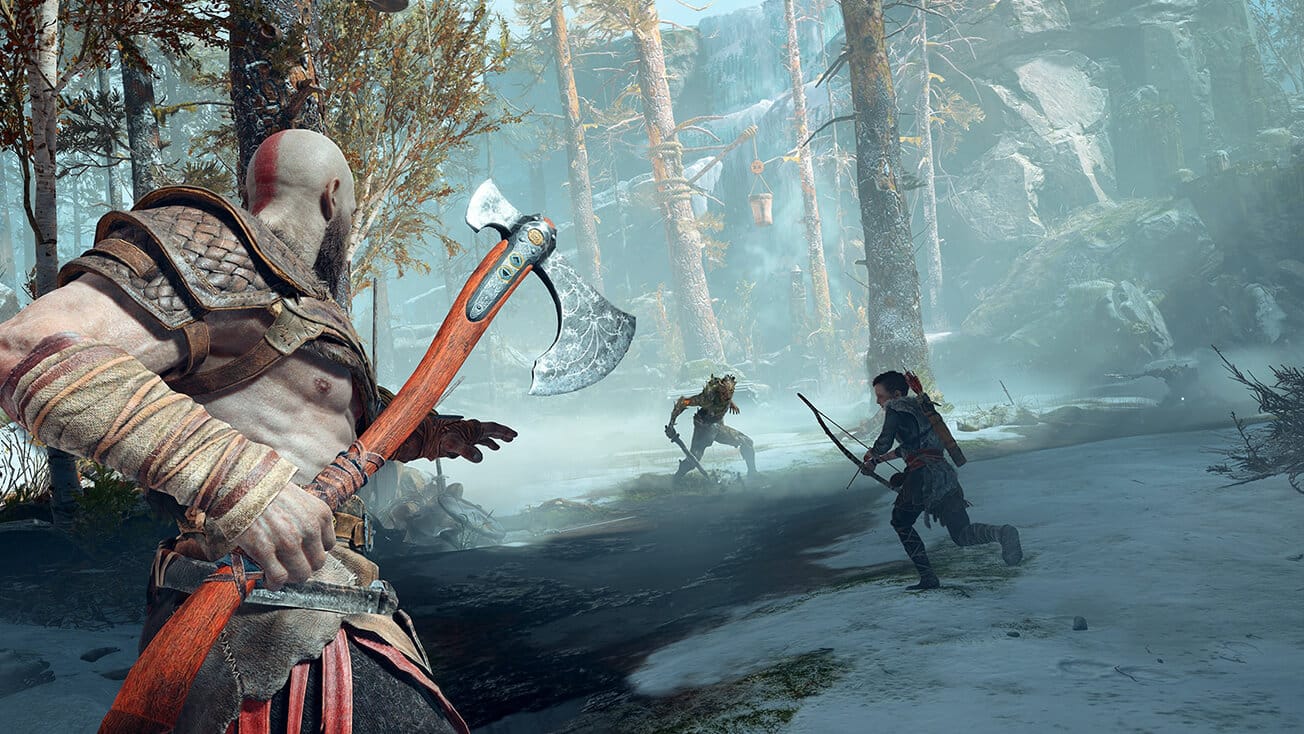 What makes this episode particularly interesting, besides its out-of-this-world graphics and gameplay, is the fact that Kratos is accompanied by his son. Atreus.
This game will take you on an incredible journey supported by an inspiring dad-and-son relationship.
The best part? You can easily find it new for less than 10 bucks.
Uncharted 4: A Thief's End
Single Player* | Action, Adventure| 2016
The fourth episode of Naughty Dog's adventure series born on PS3, Uncharted 4 lets you play once again as Nathan Drake … once again going on a treasure hunt.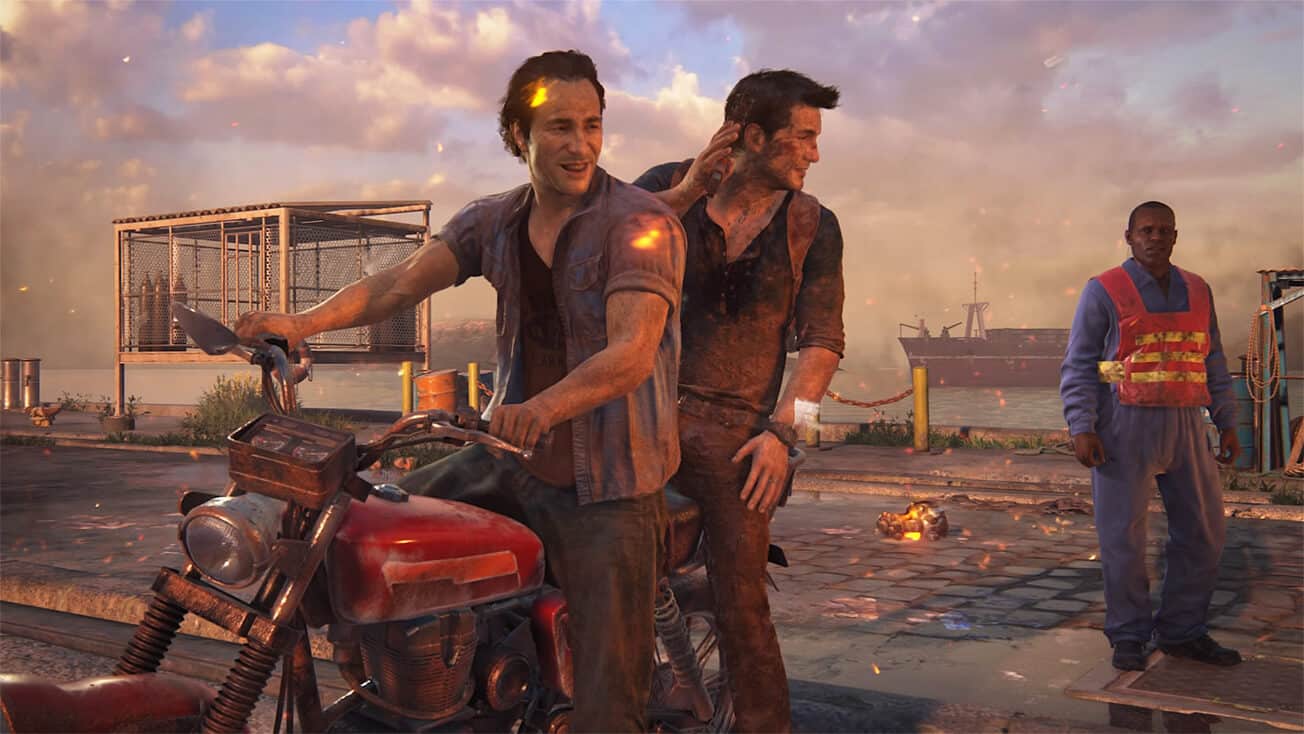 Explosive, well-paced, and written, Uncharted 4 is most definitely a must-play on PS4.
What's more, while the game was released in 2016, it's still outcompeting most of the games of its generation, technically speaking.
Did you know? Uncharted 1, 2, and 3 have been remastered for the PS4 in the Uncharted Collection.
Gran Turismo Sport
1-24 Players | Racing | 2017
Released in October 2017 on the PS4, GT Sport is a racing simulation developed by Polyphony Digital. For the first time in GT's history, the game is almost exclusively geared towards online gaming, where up to 24 drivers can play together.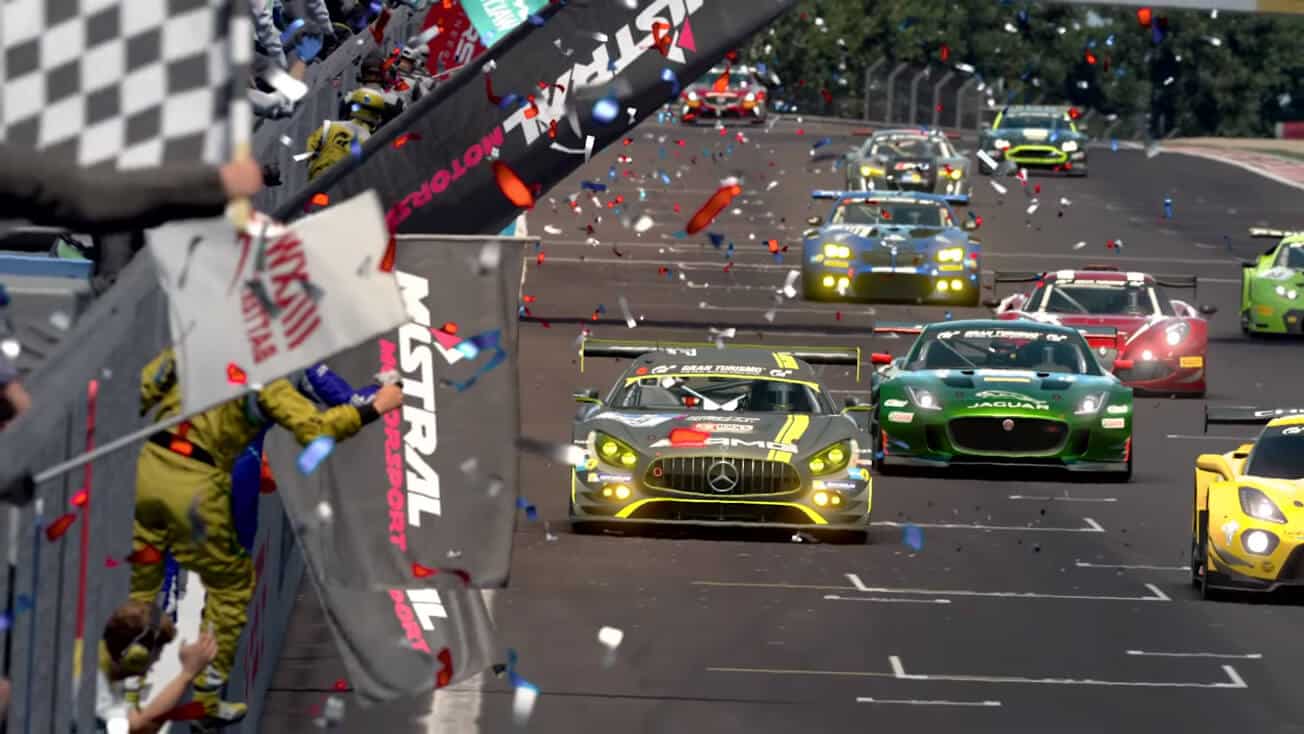 With only 168 cars and 39 tracks at launch, the title had a rough start.
What's more, the iconic driving licenses were replaced with driving challenges, and, most importantly, there was campaign mode.
Polyphony listened to the community and released more content for free. To this day, GT Sport contains 324 cars, 82 track configurations, and a short campaign mode.
Did you know? You can also play GT Sport with a PS VR.
Many games to come on the PS4 still.
While the PS5 is out, Sony is not abandoning its PS4, and many games are still to be released on it.
Because they sold so many PS4s, and due to the slow production of the PlayStation 5, Sony decided to keep releasing new games on the PS4.
Here are some of the most recent and upcoming PS4 games:
Spider-Man Miles Morales (December 2020)
Kena: Bridge of Spirits (September 2021)
Horizon Forbidden West (February 2022)
Gran Turismo 7 (March 2022)
God of War: Ragnarok (2022)
Long story short, the 8th generation is not dead (yet).
The best accessories for the PS4
With a couple of exceptions, the PS4 is only compatible with PS4 accessories. This means that you cannot use a:
PS3 controller on a PS4 (and vice versa)
PS5 controller on a PS4. You may use a PS4 controller on a PS5, but only when playing a PS4 game. Alternatively, PS5 players won't be able to use their DS4 to play PS5 games.
Now that this is clarified, let's explore the best accessories to get for your PS4.
(Official) wireless controllers
The PS4 controller – or Dualshock 4 – is an improved version of the Dualshock 3 (PS3). It's bigger than its predecessor, holds better in the palm of your hands with its little grip, and has a touch bar (which was ignored by developers throughout the generation).
An important detail is that there are two types of controllers for the PS4; V1 and V2.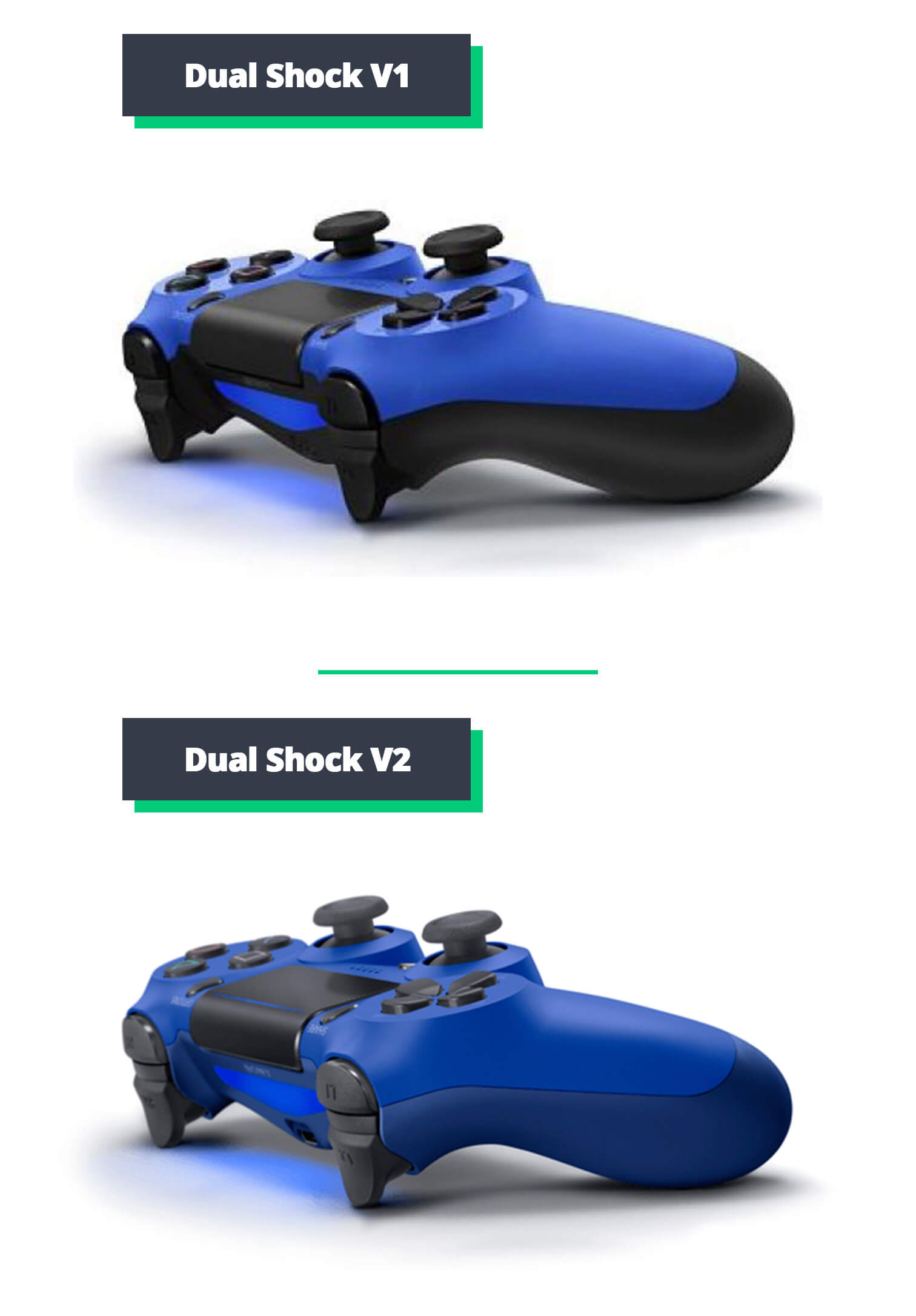 The V2 is a real upgrade of the first DS4:
Smaller: there's less space between analogs.
Analog rubbers are built to be more durable.
Analogs, buttons, and triggers are now grey (see pictures above)
Triggers were built to be more precise.
The lightbar can be seen through the tactile pad – making it easier to know which controller is which, based on the lightbar color.
The Grip color is now the same as the controller's. This is the easiest way to distinguish the two models since V1's grip is black.
USB comms – reducing input lag when plugging the controller into the console. The V1 would only communicate via Bluetooth with the console. This matters mostly for hardcore gamers, really, but it's an excellent addition.
Improved battery life, from 6-8 to 10-15 hours (depending on your usage).
Smaller controllers
If you have kids or tiny hands, you can also look into Hori's wired controllers (they won't work with games fully exploiting the touchpad).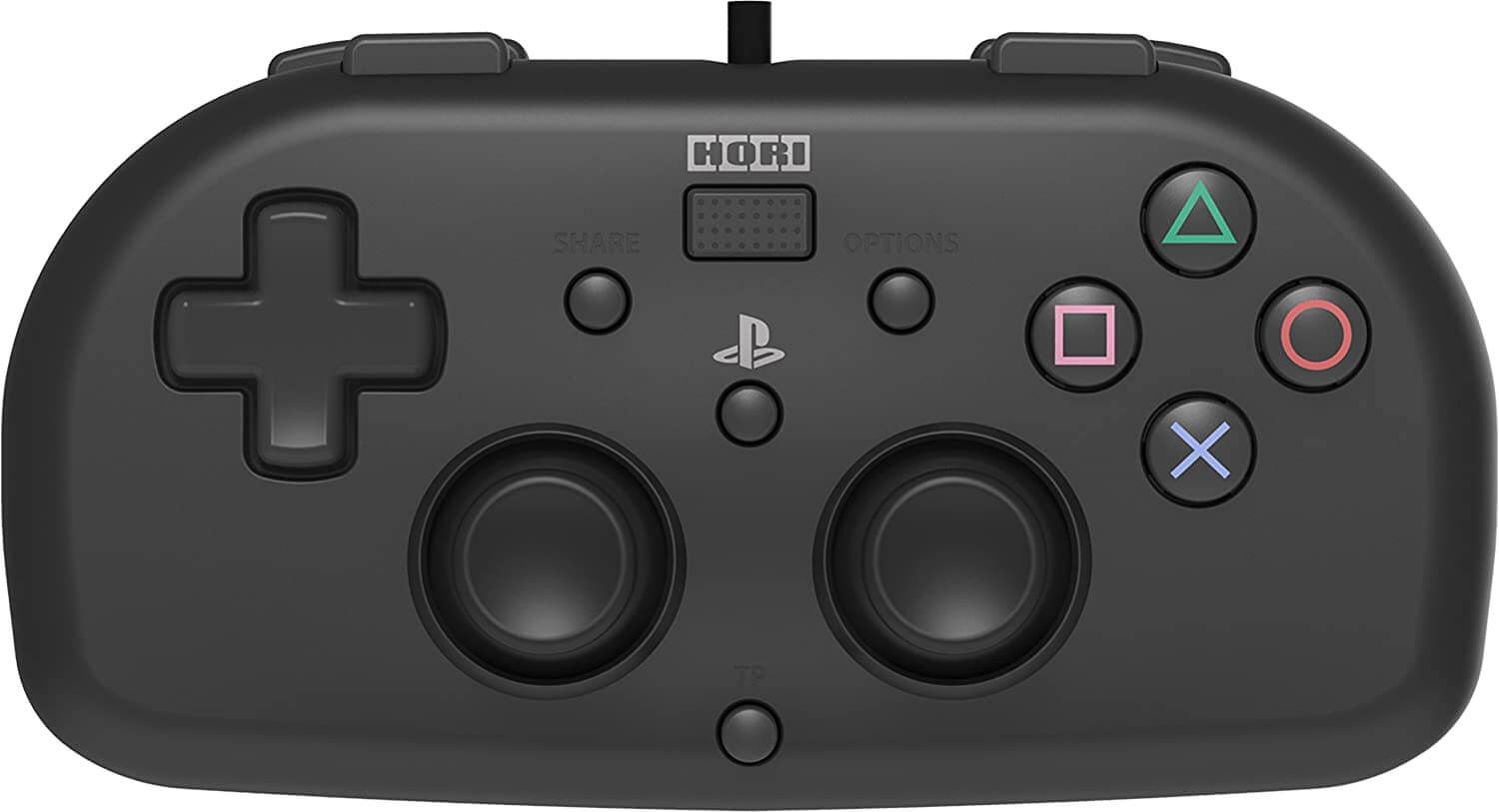 Driving wheels
This is an essential accessory if you're planning to play racing games.
Ever since I got my hands on my G29 from Logitech, I simply cannot go back to playing a racing game on a regular controller.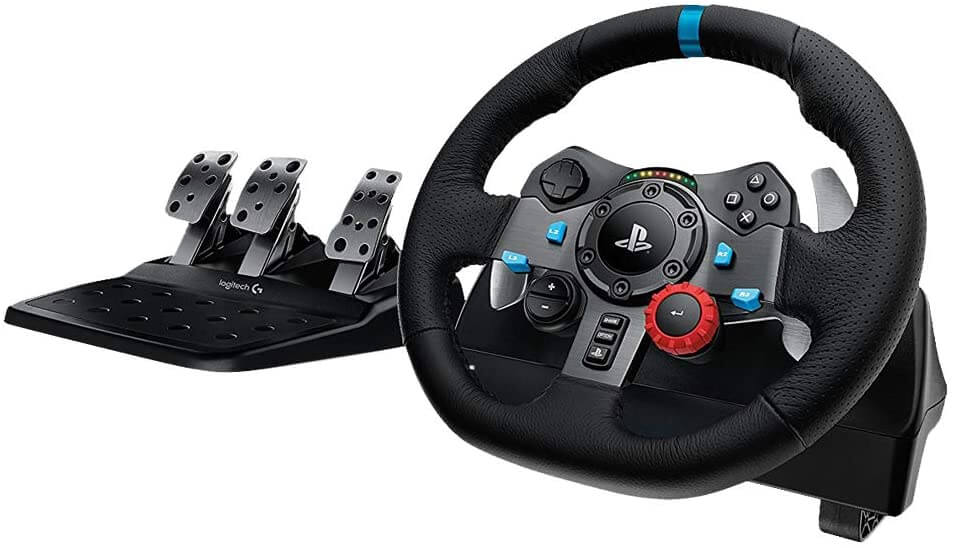 The best part is that some driving wheels, like the G29, are compatible with the PS3, PS4, and PS5.
Is the PS VR headset worth it?
The PlayStation VR is probably the best VR headset if you don't want to spend too much money on such a technology.
It's not the best VR technology – the resolution is low, and there are cables everywhere, but it's cheap! And, more importantly, it's compatible with great games.
What are the best PlayStation 4 VR games?
Here are five games that you should try if you're considering buying a PS VR.
Resident Evil 7: If you feel up to the challenge only! This game is frightening, even without a VR headset).
AstroBot: 100% built for the PS VR.
Gran Turismo Sport: Unfortunately, the entire game isn't playable through VR; only the arcade mode is – The campaign and online modes cannot be played in VR.
Wipeout Omega Collection
Ace Combat 7
If you can try a VR headset before buying one, do it. Some people experience motion sickness after a couple of minutes only, and there's not much to do about it other than stop the game, sadly.
Do you need a Playstation 4 to use the PlayStation VR?
Yes. The PS VR is not a standalone PS4 accessory. In other words, you can't play PS4 VR games without a PS4 in the first place.
Note that you cannot use the PS VR on the PS5.
Is the PlayStation Plus worth it?
The PS+, or PlayStation Plus, is Sony's online gaming service for PlayStation. It opens access to online gaming, cloud storage, interesting extra discounts, and access to a TON of games (for Extra and Premium subscribers).
PlayStation Plus Essential
Online gaming
Extra discounts on selected items.
Online storage
A couple of free games each month
United States: $9.99 monthly / $24.99 quarterly / $59.99 yearly
Europe: €8.99 monthly / €24.99 quarterly / €59.99 yearly
United Kingdom: £6.99 monthly / £19.99 quarterly / £49.99 yearly
Japan: ¥850 monthly / ¥2,150 quarterly / ¥5,143 yearly
PlayStation Plus Extra
Everything from Essential + access to 400 PS4 and PS5* games (*provided that you own a PS5)
United States: $14.99 monthly / $39.99 quarterly / $99.99 yearly
Europe: €13.99 monthly / €39.99 quarterly / €99.99 yearly
United Kingdom: £10.99 monthly / £31.99 quarterly / £83.99 yearly
Japan: ¥1,300 monthly / ¥3,600 quarterly / ¥8,600 yearly
PlayStation Plus Premium
Everything from Extra + access to 340 PSOne, PS2, PS3 (streaming only), and PSP games + the possibility to try AAA games for a short time.
United States: $17.99 monthly / $49.99 quarterly / $119.99 yearly
Europe: €16.99 monthly / €49.99 quarterly / €119.99 yearly
United Kingdom: £13.49 monthly / £39.99 quarterly / £99.99 yearly
Japan: ¥1,550 – monthly / ¥4,300 – quarterly / ¥10,250 yearly
Just like the Xbox Game Pass, the PS+ is a great deal, especially if you don't have a PS2 or a PS3 and would like to play games from the previous gen.
But it's far from perfect:
Just as for the Xbox Game Pass, you pay to rent games. Once you stop paying, you will lose your games.
The offer isn't as good as the Game Pass yet, as Sony exclusives aren't released on day one on the platform.
You need a high-speed connection to stream games. And even then, you may have to deal with input lap and visual artifacts while playing.
No (real) backward compatibility
If you own PSX, PS2, and PS3 games, this will be a problem. The console can only play PlayStation 4 games.
No PSX, PS2, or backward compatibility
To play games from the previous PlayStation gens, you need previous-gen consoles.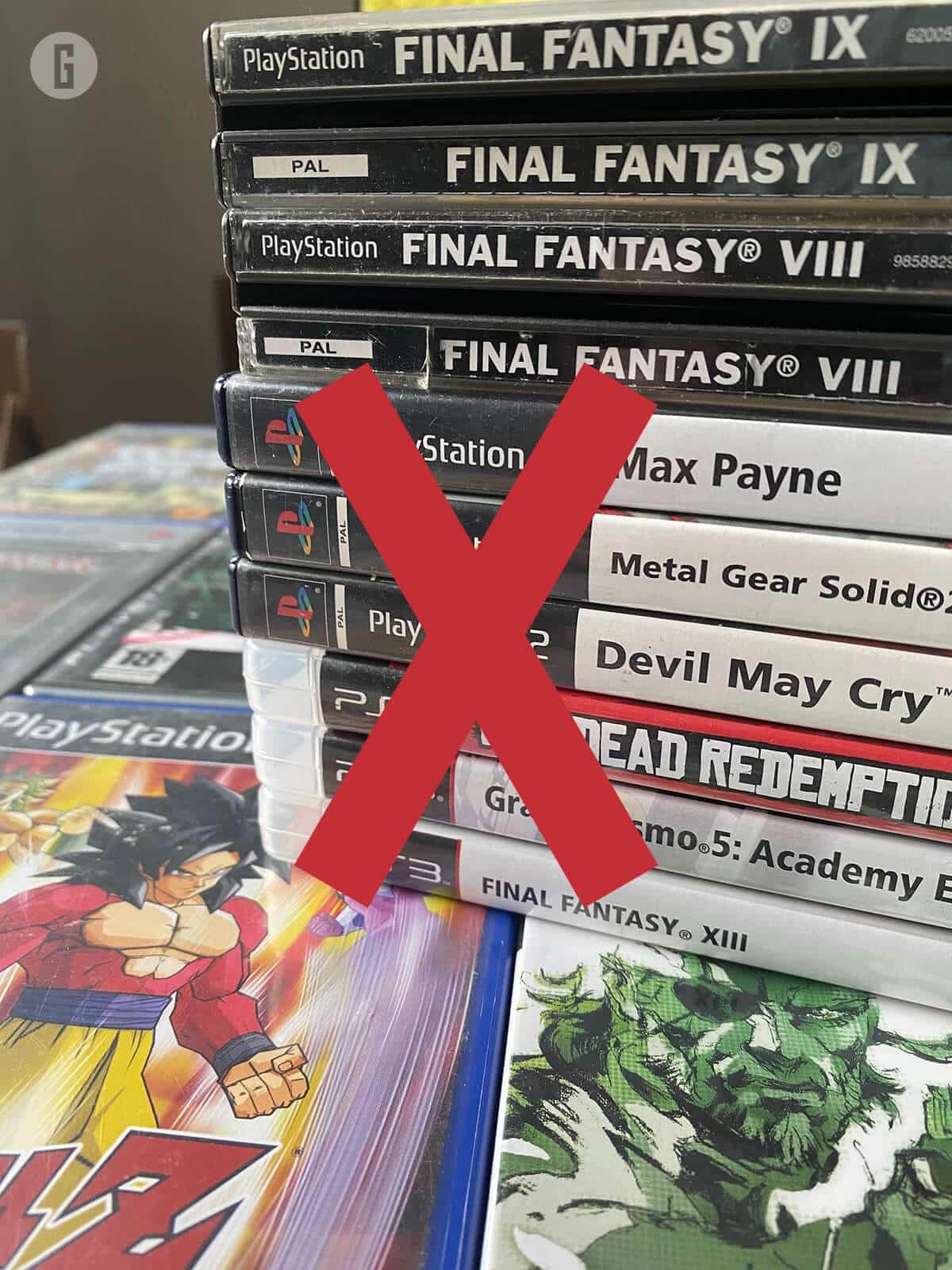 This is, in my opinion, the biggest flaw of the PS4. I enjoy playing previous-gen games, and being unable to play PSX to PS3 games on my PS4 bothers me a lot. I was also expecting the PS5 to offer such a feature, and while it's compatible with 99.99% of PS4 titles (according to Sony), it cannot run PSX, PS2, or PS3 games.
All of the above applies to discs and digital games from the PlayStation Store.
For this reason, I keep my PlayStation 3 plugged under the TV and my PS2 and its PS2 to HDMI adapter in a box by the TV 😅.
How to capture gameplay on the PS4
There are two ways to capture gameplay on the PS4.
You can either use the controller's Share button to take screenshots and clips (30 minutes max.) or use a capture card.
If you use a capture card, you need to remove the HDCP protection on the PS4 manually. To do this, go to Settings > System and untick 'Enable HDCP'. Note that you won't be able to use applications like Netflix, Disney +, or Amazon Prime when disabling HDCP.
What's the right price for a PS4?
Sony is starting to end the production of PS4. This means that finding a new PS4 will increasingly become challenging in the near future. Now, this shouldn't be a problem since new PS4s are usually sold at full price (from $299 for a PS4 Slim). This is way too pricey.
The PS4 is a reliable console. This is why I strongly recommend buying second-hand. My advice is not to buy from teens, as they tend not to care as much for their consoles. Another piece of advice is to open your PS4 asap to clean it and renew the thermal paste.
Here's a tutorial to do this:
As for the price, it comes down to the PS4 model you're looking at. Here's a rough estimate from a quick search on eBay.
PS4 (Fat): 130-150 (€ | $ | £)
PS4 Slim: From 150 (€ | $ | £)
PS4 Pro: From 200 (€ | $ | £)
Verdict: good buy, or goodbye?
I think the real question here is: what are you waiting for?
If you're looking to purchase one console from the 8th generation, it should be a PS4. It has great games, it's reliable, and it's now a cheap gaming device!
I'm not kidding. Leave this website. Go. Buy. It.
–
What's your opinion about the PS4? Let me know in the comments!