The PlayStation 3, in short
Even though it's starting to show its age, the PlayStation 3 is still an interesting choice. Not only can you enjoy the console's free online gaming and Blu-Ray disc player, but you'll be able to play dozens of classic titles like Metal Gear Solid 4, Killzone 2 and 3, or Heavenly Sword, still incompatible with the PlayStation 4 and PlayStation 5.
What's great about the PS3
A cheap Bluray player
Free online gaming
A great collection of games
What's not so great about the PS3
Most games run at 720p
The remaining online servers are deserted
The interface can be slow, at times
The PlayStation 3 had the difficult task of succeeding the PlayStation 2, the absolute ruler of the 6th generation of consoles.
As a reminder, Sony sold 157 million PS2 worldwide after producing them from 2000 to 2013. That's right; the PS2 still sold even six years after the PS3 was around.
How well did the PS3 do in comparison?
Is it still worth buying nowadays?
Or would it just be a waste of your money?
Answer in this comprehensive review of the PlayStation 3.
The PS3 had a rough start – especially in the US.
The launch of the PS3 was chaotic. First, it took over four months to achieve a global release. The console reached Japan and North America in November 2006 and the rest of the world in March 2017.
What's more, following the success of the PS2, Sony might have had a case of "too big to fail" —starting with an overly priced console.
An insanely high starter price
$599.
This is how pricey the PlayStation was on day one.
$599 later turned into €599 and £425.
The high price met strong resistance from consumers, and Sony dropped it by $100 in July 2007.
Why was the PS3 so pricey?
New tech is always pricey. Rare tech is even more expensive.
Beyond its complex architecture, the PS3 had a Blu-Ray disc drive. At the time, Blu-ray players were top of the art tech and sold at prices averaging $800, thus making the PS3 the most affordable BluRay player on the market.
Now, In my opinion, the PS3 came out a year too early. Its components were too pricey, and the real advantage of Bly-Ray discs didn't show until very late in the 7th generation.
The complexity of the PS3 made it extra complicated for third-party developers to port their games both on Xbox 360 and PS3. As a result, most of the titles released earlier in the 6th gen look better and run smoother on the Xbox.
—
The RRP of the PlayStation 3 at launch was $599. Yup, that's even pricier than the PS5, and Xbox Series X launched 14 years later.
Considering 14 years of inflation, a PS3 would cost $794.19 today.
—
The high price had a devastating impact on sales. That's especially true for the US market, where Microsoft's Xbox 360 sold for $200 cheaper and was available for a whole year before. As a result, the Xbox 360 led the way for 12 years in North America.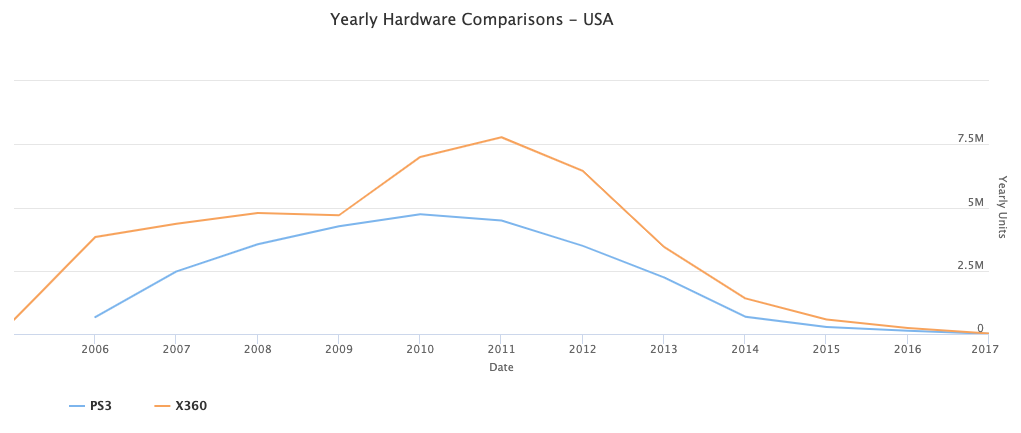 Source: VGChartz
However, in Europe, the high price effect wasn't as significant, and the PS3 even had a stronger start than the Xbox 360.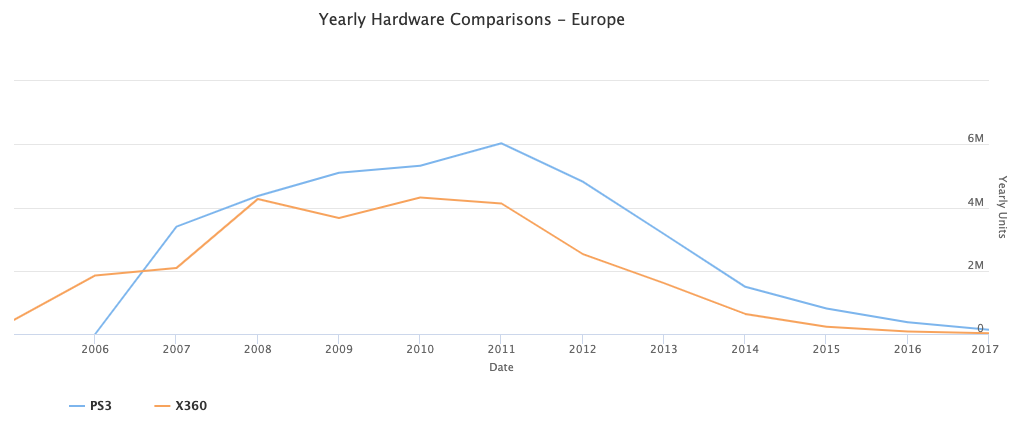 Source: VGChartz
How can this be explained?
The PlayStation brand was well-implanted in Europe, whereas the American giant Microsoft and its Xbox still had a lot to prove. For these reasons, the PlayStation 3 performed better on the old continent.
Xbox did try its best to install its brand in European gamers' heads. While the OG Xbox was more of a crash test to enter the market, Microsoft meant business with the 360. And they played dirty to get the message across.
In March 2007, they branded a boat on the Seine in Paris to say Xbox 360 Loves You to PlayStation fans queuing around the capital to get their hands on their PS3.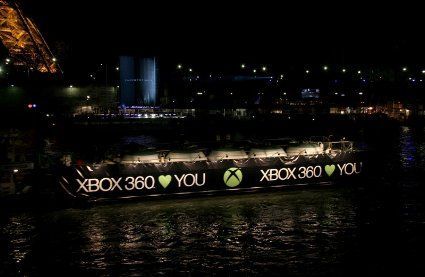 While this probably didn't help to steal customers from PlayStation, it was pretty bold and funny.
Three versions of the PS3 from 2006 to 2012
Sony Computer Entertainment released three different versions of the PlayStation 3 between 2006 and 2012 (the production officially stopped in May 2017, and Sony sold a total of 87,41 million PlayStation 3).
If you don't know much about the PS3, you must read the following paragraphs, as not all versions of the console are equally interesting, depending on what you're after. Worst even, the first models are highly unreliable.
The Original PS3 FAT Models (2006)

US and Japan Launch models
Two models of PS3 were available from day one in the US and Japan.
A 20 GB version (CECHBxx) sold at $499
A 60 GB version (CECHAxx) sold at $599
Other than the storage difference, the 20 GB console was missing an SD Card reader and didn't have any wifi antenna. To use online services with this PS3, it is mandatory to use an Ethernet cable.
Worldwide launch models
Only the 60 GB version (CECHCxx) of the PS3 was sold on launch day in March 2007 in the rest of the world, after the 20 GB model didn't sell well in the US and Japan.
A 60 GB version (CECHCxx) sold at $599
Another model (CECHExx) was released later in August 2007 with 80 GB of storage space.
All four models mentioned above are backward compatible with PS1 AND PS2 games.
All following FAT models (labeled CECHGxx to CECHQxx) were only backward compatible with PS1 games.
Reliability issues: Meet the Yellow Light of Death
New pieces of electronics usually come with a lot of trouble.
Microsoft had to deal with the Red Ring of Death (RROD). Sony had to deal with Yellow Light of Death (YLOD), a general hardware failure related to the motherboard, the power supply, or the blu-ray drive. Casualties weren't as terrible as those of the Xbox 360, but they were important enough for me not to recommend investing in a FAT Model.
The Sixaxis Controller vs. DualShock 3
"Vibrations belong to the past" – "motion control is a revolution," said Sony officials as they promoted the PlayStation 3 and the Sixaxis technology they developed for its controller. The problem here wasn't the Sixaxis technology but the absence of vibrations.
Sure, moving the controller to interact with the games is appealing on paper, but very few titles exploited the motion controller. Plus, if I had to choose between motion controls or vibrations, I'd pick vibrations every time.
Fortunately, in June 2008, Sony released the DualShock 3 and added vibrations to their controller, in addition to the motion controls. Halleluyah.
The PS3 Slim Models (2009)
Smaller, lighter, cooler, coming with more storage, and a lot more reliable, the Slim models stormed the market in September 2009.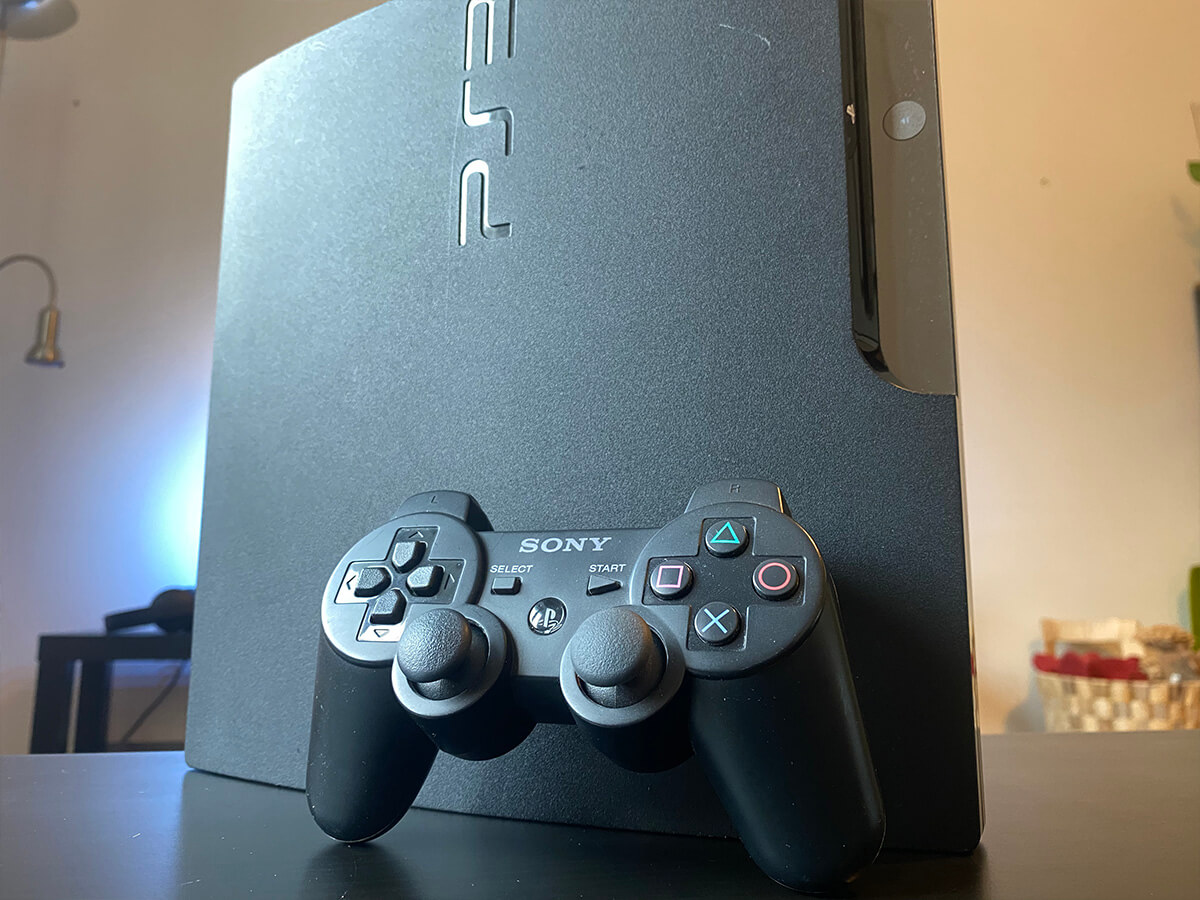 PS3 slims have been sold with different storage spaces: 120 GB, 160 GB, 250 GB, and 320 GB.
Call me unlucky, but I owned 3 PS3 slims over the years and had notable issues with 2 of them.
The first one would suddenly turn off on its own due to a power calibration malfunction. Fortunately, I could quickly fix the problem by opening the console and recalibrating the power supply (it sounds fancy, but I just had to turn a button).
My second PS3 slim was overheating. I replaced the thermal paste, replaced the fan, and the problem remained. The third one is not showing any sign of weakness, but I haven't played a lot with it either.
The PS3 Super Slim Models (2012)
In 2012, Sony released its last iteration of the PS3. A lot smaller and lighter than the slim models, the PS3 Super Slim also looks very plasticky.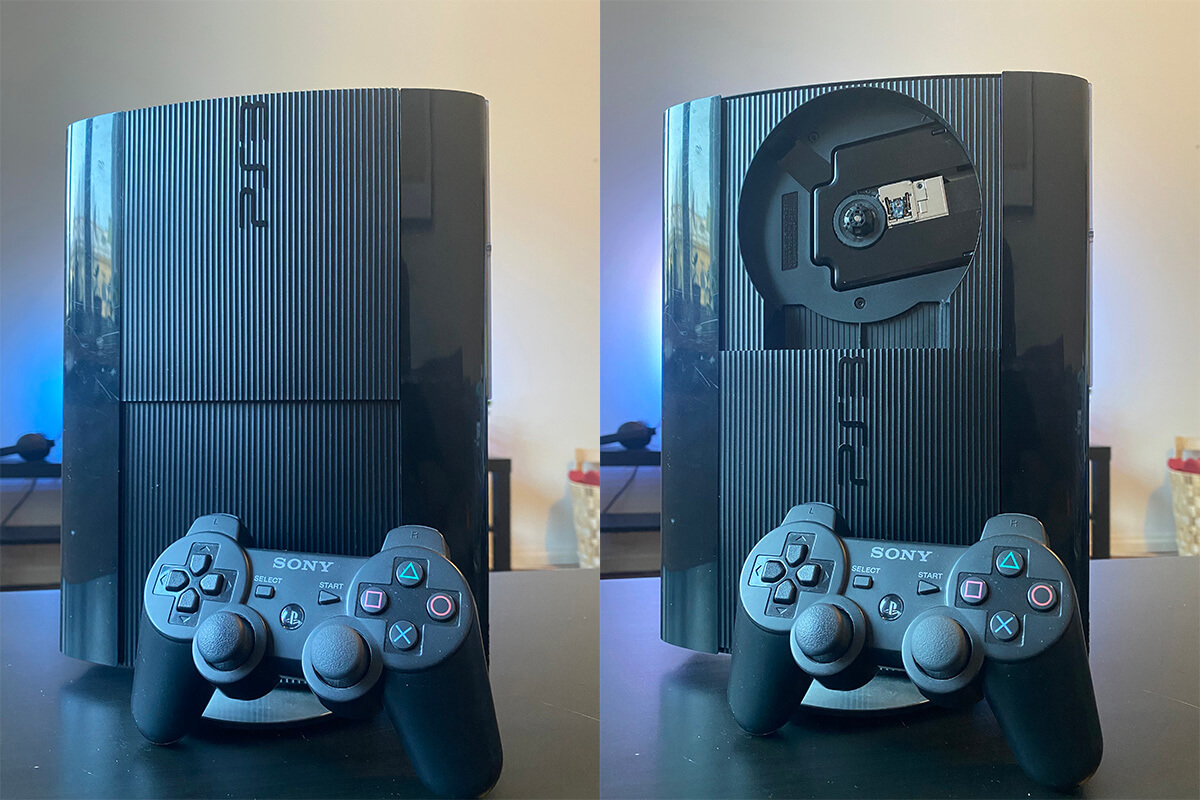 One thing I liked a lot about this model is the access to the disc drive. You can access it from a simple slide of the top cover. On the negative side, the console is covered with glossy plastic that quickly shows scratches.
Beware of the storage space.
There are roughly two types of Super Slim out there. There are those with an HDD (250 GB or 500 GB) and those with 12 GB of internal flash storage space. 12 GB is NOT enough to enjoy the PS3. The great thing about the PS3 is that HDDs aren't proprietary. They are regular 2.5 laptop-size hard drives that you can easily change yourself. It applies to all models of PS3.
I've had a Super Slim Model for the last two years and have had no issues with it – So I would naturally advise you to turn to this model if you're considering acquiring a PlayStation 3.
Which PS3 model should you buy?
Considering how cheap the console can be nowadays, don't compromise on the models. If you want to collect consoles and put them on display in your Playroom, I don't see why getting a FAT model would be a problem. But if you want to play with it, consider getting a Slim or Super Slim.
—
Another piece of advice I want to share with you is always to leave room for your console to breathe – regardless of the model you get. Consoles need space to evacuate hot air and suck fresh air in. That's especially true if you live in a warm place or play for long hours during summer.
—
A note on backward compatibility
As mentioned earlier, not all PS3 models are equal with backward compatibility.
Sadly, the one model that launches PS2 titles is also one of the least reliable. In other words, if you're after backward compatibility, invest in a PlayStation 2 and a PS2 to HDMI converter.
What makes the PS3 unique is that neither the PS4 nor PS5 can launch its games natively. Long story short, the reason for this is that the architecture of the PS3 is different from newer Sony consoles. To natively play PS3 titles on a PS4, for instance, Sony would have had to put a PS3 inside of the PS4.
Streaming the PlayStation 3 – The one alternative to buying a PS3
To play PS2 and PS3 titles on the latest consoles, you can subscribe to Sony's online subscription (Previously called the PlayStation Now, now rebranded into PlayStation Plus Extra and PlayStation Plus Premium).
The service allows you to stream or download hundreds of titles from a PS5, PS4, or PC. This is an excellent service, BUT it's not bringing PS3 backward compatibility to the PS4 and PS5 as only a selection of games is available on the service. What's more, streaming means you'll sometimes see artifacts on the screen, even with an ultra fast bandwidth.
In short, for the best PS3 experience, get a PS3.
Exclusive games to enjoy on the PlayStation 3
The PS3 was home to hundreds of great titles. That said, I have selected a handful of games I suggest you look into:
Uncharted 1 – 3
Killzone 2 – 3
Gran Turismo 5
Little Big Planet
God of War 3
Uncharted 1, 2 & 3
FPS | Single Player *
Exciting combination of Lara Croft and Indiana Jones, Nathan Drake began his adventures on the PlayStation 3. Sure, you can now play all three games on the PS4 nowadays, but other than sleeker graphics and higher frame rates, the original PS3 versions don't have much to envy their 2016 iteration.
Uncharted: Drake's Fortune
Uncharted 2: Among Thieves
Uncharted 3: Drake's Deception
* Online servers for Uncharted 2 and Uncharted 3 have been shut down. It doesn't affect the solo experience in any way.
Action | Third Person | Solo *
MGS4 is the conclusion of Solid Snake's epic saga. If you like action/infiltration games and fantastic plots, you're in for a treat. However, do not play this opus if you haven't played all the previous Metal Gear Solid games. You won't understand anything.
Fortunately, you can play all Metal Gear games on the PS3 (from Metal Gear Solid to Metal Gear Solid 5). Here's the right order to go through the games:
Metal Gear Solid 5: Ground Zeroes
Metal Gear Solid 5: Phantom Pain
Metal Gear (part of MGS3 Subsistence, or HD)
Metal Gear 2 (part of MGS3 Subsistence, or HD)
Metal Gear Solid (via PSX backward compatibility)
* Metal Gear Online (MGO) – Metal Gear Solid 4's online mode officially closed its doors in 2012 – only four little years after its release. Today, only Metal Gear Solid 5's online servers are still running. Note, however, that Phantom Pain's servers are to close on PlayStation 3 and Xbox 360 at the end of May 2022.
The Last of Us (TLOU)
Survival, Action | Single Player *
The Last of Us is a survival action game released in 2013 on the PS3 (it's now also available on the PS4 in a remastered version). You play as Joel, a man trying to survive in a post-apocalyptic world populated by infected beings and plunged into a terrifying state of violence. Naughty Dog created a masterpiece that every PS3 and PS4 owner should play – not joking.
Watch the first hour of the game to get a better idea.
* Online servers for The Last of Us on PlayStation 3 have been shut down. It doesn't affect the solo experience, but you won't be able to unlock online multiplayer-related trophies.
Killzone 2 | Killzone 3
FPS | Single Player *
Killzone was supposed to be PlayStation's anti-Halo. Seeing how the license disappeared today, they failed to do this. But Killzone 2 remains an incredible title, portraying a terrible futuristic war inspired by the 20th century's totalitarian regimes.
* Online servers for Killzone 2 and Killzone 3 have been shut down. It doesn't affect the solo experience, but you won't be able to unlock online multiplayer-related trophies.
Gran Turismo 5
Racing | Simulation | 1 – 2 players *
With over 1 000 cars, 26 locations, and 71 tracks, GT5 offers a lot of content to racing fans. It was also the first episode in the series to offer dynamic weather and night/day cycles on selected tracks.
What makes GT so unique is the sweet mix of simulation and arcade it offers. GT is also a very complex title that is best enjoyed with a wheel. I have the Logitech G29, and it's pure joy for GT – note that the G29 is compatible with the PS3, PS4, and PS5.
* While GT5 was the first GT to offer online services, servers are now closed. It means that there's no point in getting the GT Academy Edition as you won't be able to download the additional content. It's not that big of a deal since Gran Turismo 5 offers a LOT of content.
Little Big Planet (1 to 3)
Platform |1 – 4 players
Little Big Planet is a fun platform game suitable for kids and adults. See it as Sony's Mario. You can play Little Big Planet with up to 3 other people, and servers are still online!
Another fundamental aspect of Little Big Planet is level creation. You can create entire levels from A to Z using the in-game editor.
* Online servers for Little Big Planet games on PlayStation 3 have been shut down in August 2021.
God of War 3
Beat 'em All | Solo player
God of War III is a beat 'em all taking place in a mythological universe. You play as Kratos a Demigod. In GOW III, Kratos goes on an act of bloody and brutal revenge against all gods of Olympus. And it is pretty epic!
You can now also purchase God Of War III Remastered on the PS4 and enjoy sleeker graphics and a 60 FPS experience. Having said that, the PS3 does the job admirably in the first place.
Play online for free!
You read that right.
Whatever console you play from nowadays, you have to pay to play online. There's no way around it, except if you play on the PlayStation 3.
For obvious reasons, most online servers are either deserted or down – as mentioned above with Uncharted games, Gran Turismo, or The Last of Us.
But some selected games still have their servers up and are still populated! If you don't have a PC and would like to play Call of Duty or GTA online for free, the PS3 is still a viable option.
The PS3 online community is, of course, diminishing by the day and mostly hanging on a selected amount of games.
At the end of the day, free online is nice to have on the PS3, but it shouldn't motivate your purchase as servers keep closing down and fewer players show up.
You can still purchase games and extensions from the PlayStation Store via your PS3, but Sony isn't putting much effort into it, and games are usually fully priced (read: overpriced).
How much is a PS3?
It is cheap.
After taking a quick look on eBay, Slim and Super Slim models are selling from 50 to 70 euros. This, my friends, is a bargain.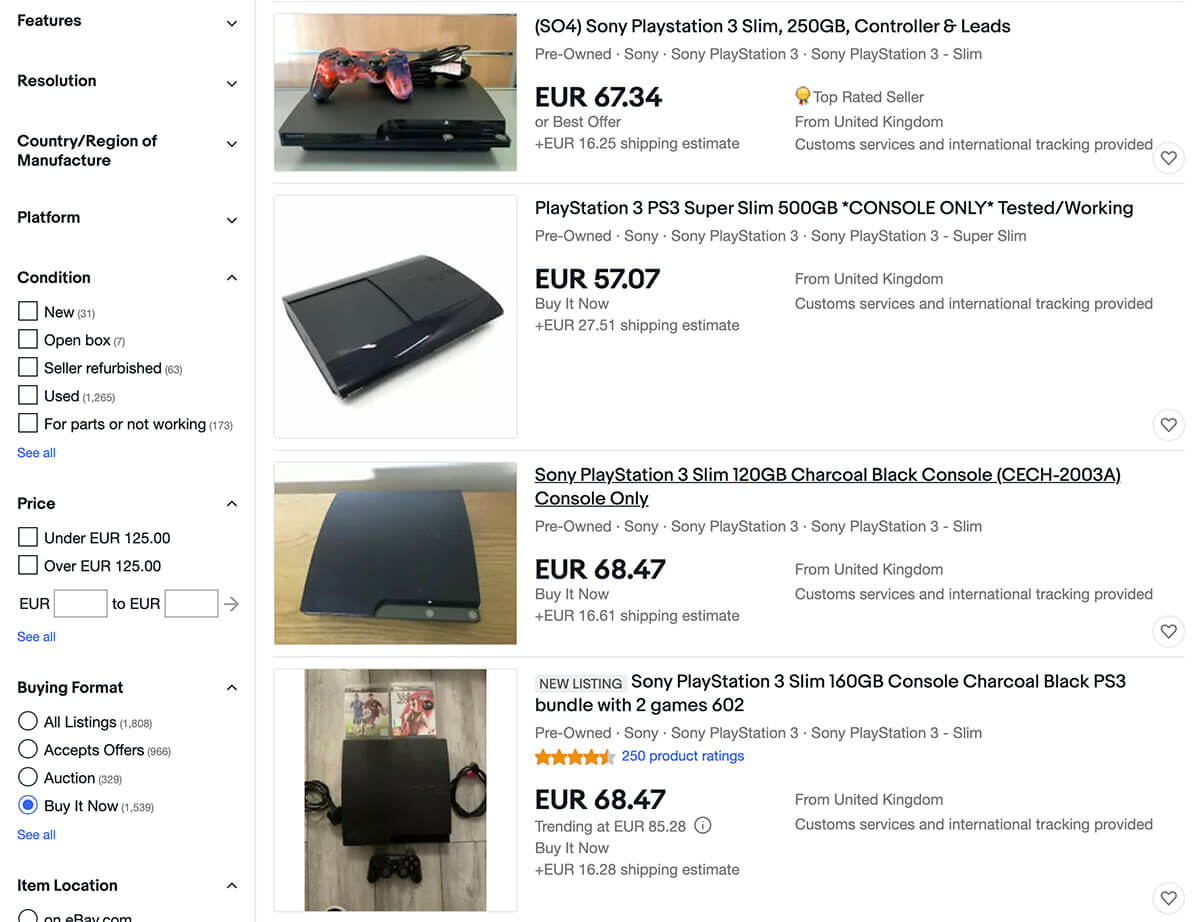 The original model seems to trend from 40 to 70 euros. But, be advised, a lot of those models are reportedly faulty.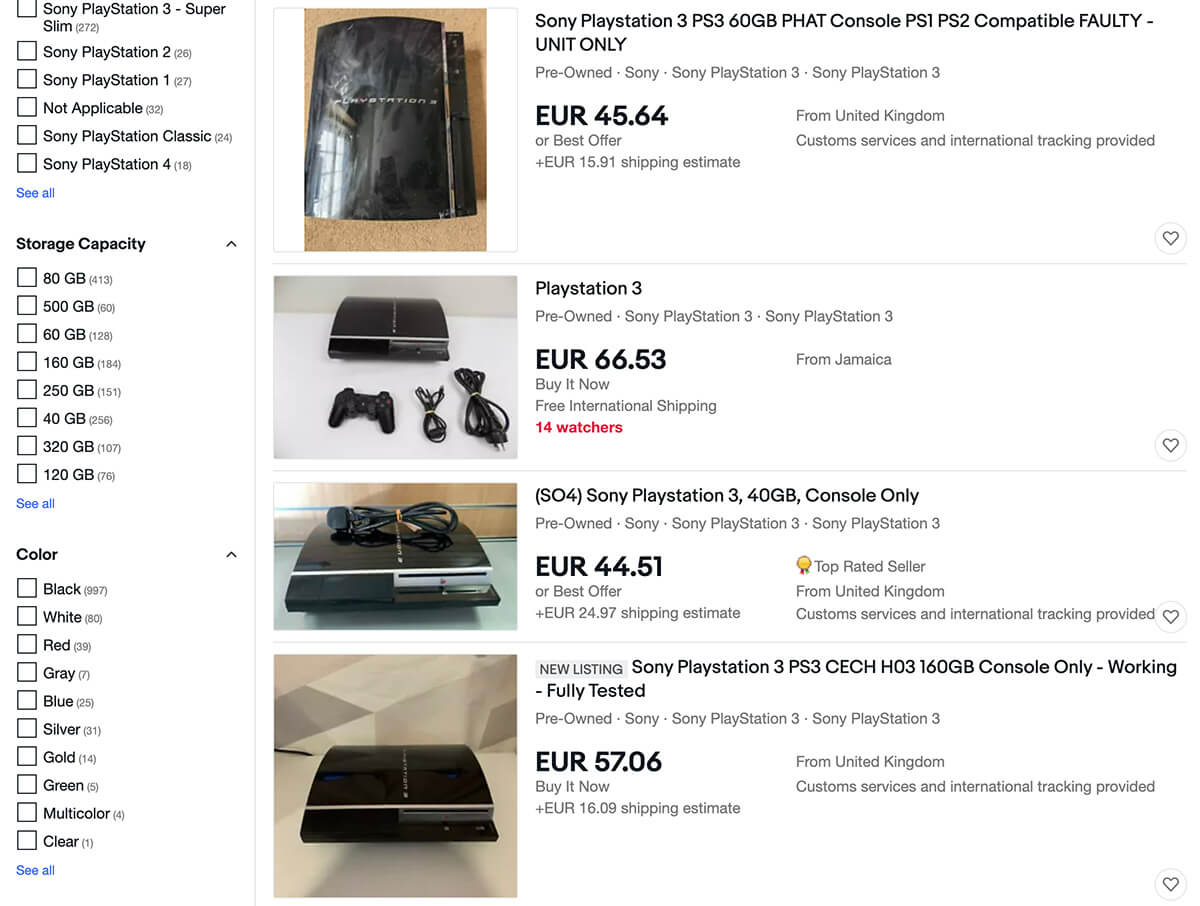 If you don't want to buy your console from a total stranger on eBay, visit your local game store! They always have old(ish) consoles at low prices.
A note on capturing gameplay on a PS3
If you're interested in using a Capture Card to capture gameplay from your PS3, you'll need an HDMI Splitter. The reason is that Sony is using an HDCP protection, and using an HDMI Splitter is the only way around it.
Here's how your setup should look.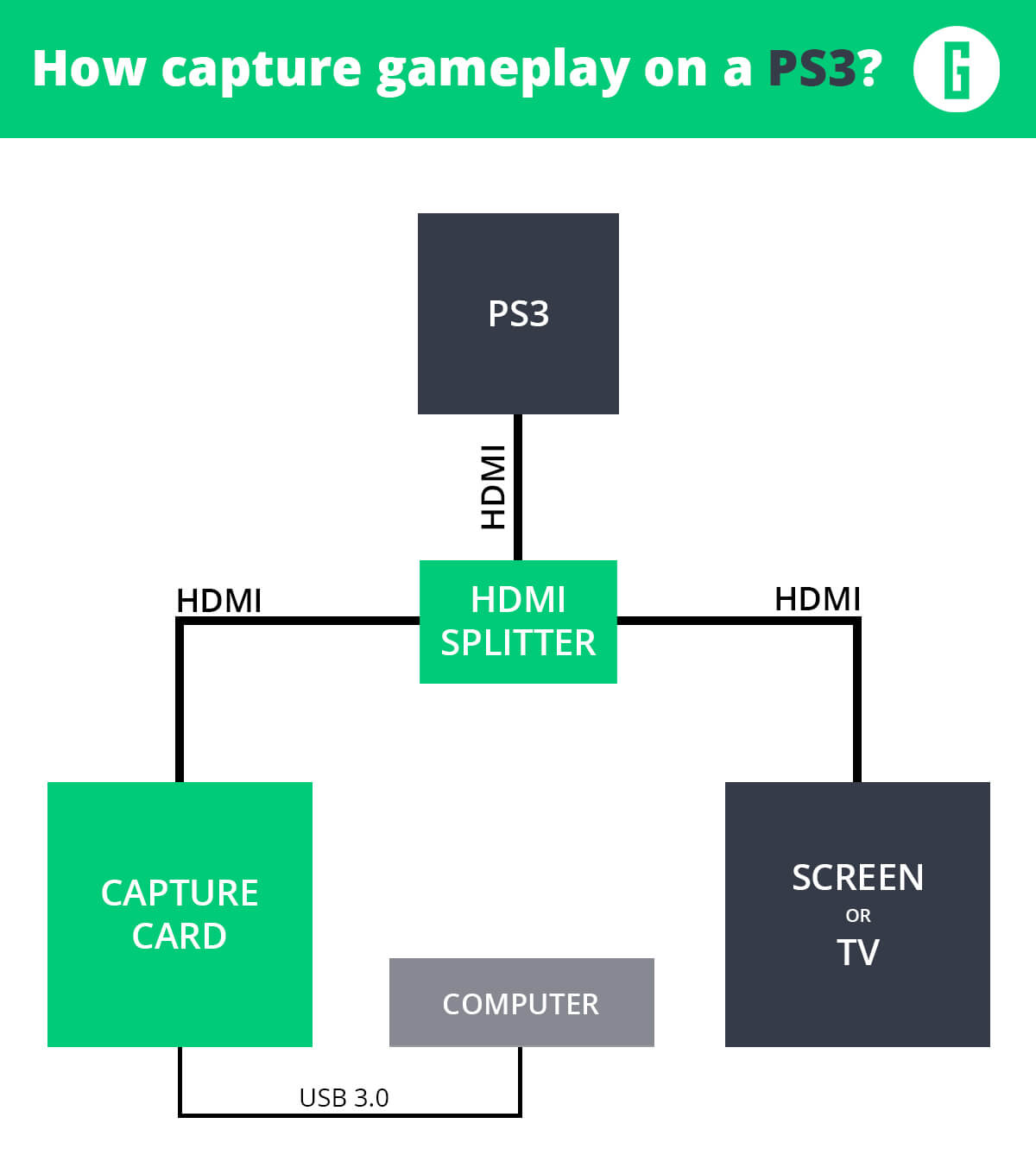 To learn more, read my post on how to use a Capture Card.
Verdict: good buy, or goodbye?
The best place to play PlayStation 3 games? The PlayStation 3, of course.
Free online gaming. Blu-Ray disc player. Fantastic exclusives. All-in-all, the PS3 was, and still is, a great console.
If you have 50 to 70 bucks to spare and want to play great video games without investing a lot of money, the PS3 is a good option – especially since owning a PS3 is the only way to play most PS3 games.
It's not a risky investment, go for it and have fun.